Jalapeno Poppers Recipe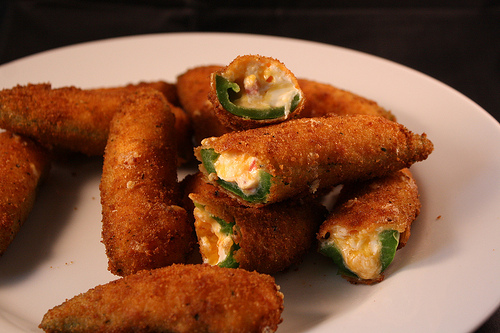 These jalapeno poppers make a great appetizer for parties. They are basically stuffed jalapeno peppers that are breaded and fried. The filling ingredients include cream cheese, cheddar cheese and bacon bits. You can adjust the amount of bacon bits to your taste. When you are slicing and seeding the peppers it might be a good idea to wear rubber gloves because they can burn your hands if you are not careful. This recipe can easily be double for tripled if you want to make a batch for a large group of people. Enjoy.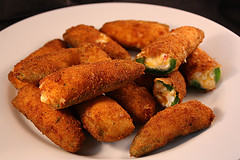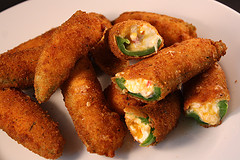 Ingredients:
12 ounces cream cheese (softened)
1 (8 ounce) package shredded cheddar cheese
1 tablespoon bacon bits
12 ounces jalapeno peppers (seeded and halved)
1 cup milk
1 cup all-purpose flour
1 cup dry bread crumbs
2 quarts oil (for frying)
Cooking Instructions: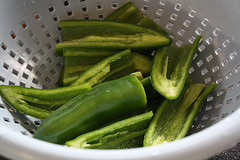 Step 1: In a medium mix combine cream cheese, cheddar cheese, and bacon bits. Spoon the mixture into each of the jalapeno pepper halves.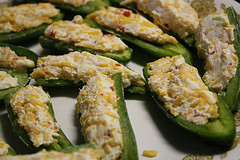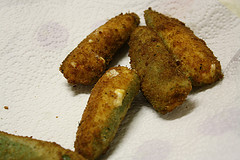 Step 2: In a small bowl add the milk, and in another small bowl add the flour. In a shallow pie dish add the breadcrumbs. Dip the jalapenos first in milk, then into the flour, ensuring that they are well coated. Allow to set for 10 minutes. Dip the jalapenos in the milk again, and then roll in breadcrumbs.
Step 3: In a deep fryer (or deep skillet) heat oil to 365 degrees. Deep fry coated jalapenos in batches for 2 to 3 minutes until golden brown. Remove and drain on paper towels.