Key Lime Pie Recipe

One of the easiest pie recipes you will ever come across is Key Lime Pie. This pie originated in Key West, Florida. The pie is so simple to make the filling only consists of three ingredients; sweetened condensed milk, lime juice, and egg yolks. To save time you can use a prepared graham cracker crust and just pour the filling into it. Depending on where you live, you might not be able to find key limes. I know around here it is very difficult so I had to settle for regular lime juice. Serving with whipped cream is a must. Enjoy.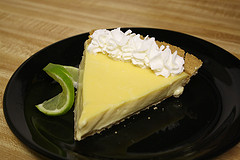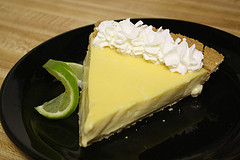 Ingredients:
5 egg yolks (beaten)
1 (14 ounce) can sweetened condensed milk
½ cup key lime juice
1 (9 inch) prepared graham cracker crust
Cooking Instructions: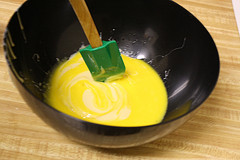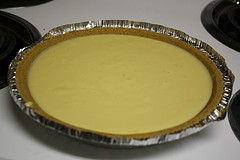 Step 1: Pre-heat the oven to 375 degrees. In a large mixing bowl combine egg yolks, sweetened condensed milk, and lime juice. Mix well. Pour into the unbaked graham cracker shell.
Step 2: Place into the oven and bake for 15 minutes. Allow to cool. Top with whipped cream.