Mexican Street Corn Recipe

I have always wanted to try Mexican street corn so I decided to prepare it on the grill. Mexican street corn is very easy to make and has a delicious flavor. I prepare to husk the corn before grilling so that it gets nice and brown on the grill. The corn grills for about 10 minutes and then is brushed with mayonnaise and garlic powder and topped off with cotija cheese, chipotle chili powder and chopped cilantro. If you don't want a lot of spice you can use smoked paprika instead of chipotle chili powder. A squeeze of lime juice adds additional flavor. Enjoy.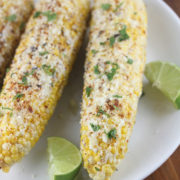 Mexican Street Corn
Ingredients:
3 ears sweet corn (husked)
3 tablespoons mayonnaise
¼ teaspoon garlic powder
½ cup cotija cheese (crumbled)
3 tablespoons cilantro (chopped)
½ teaspoon chipotle chili powder (or smoked paprika)
1 lime (quartered)
Directions:
In a small bowl mix together garlic powder and mayonnaise. Set aside.
Spray the corn on all sides with cooking spray. Heat an outdoor grill to medium-high heat. Add corn and cook until lightly browned on all sides, turning frequently for about 10 minutes. Remove from the grill.
Brush the corn all over with the mayonnaise and garlic powder mixture. Sprinkle with cotija cheese, chipotle chili powder and chopped cilantro. Serve with lime wedges to squeeze over the corn.