Mustard BBQ Pulled Pork Recipe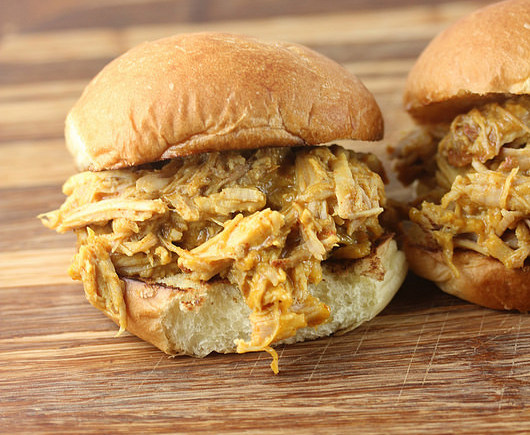 Pulled pork sandwiches are great with traditional bbq sauce but if you are looking for something a little bit different, using a southern mustard based bbq sauce is a great option as well. Mustard bbq sauce is similar to regular sauce but the primary ingredient is yellow mustard. The sauce is very easy to prepare and you probably already have most or all of the ingredients on hand already. In this recipe a pork roast is rubbed with a seasoning and then cooked in the slow cooker, shredded and mixed with the prepared mustard bbq sauce. I like to serve the pork on sandwiches and you can also add some coleslaw to the sandwiches or serve it on the side. Enjoy.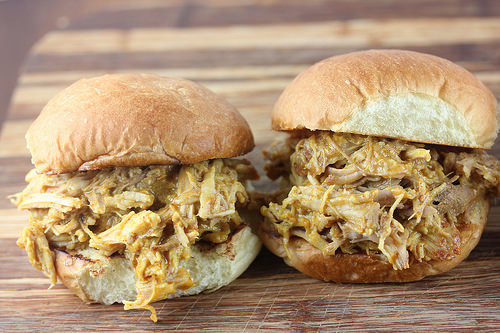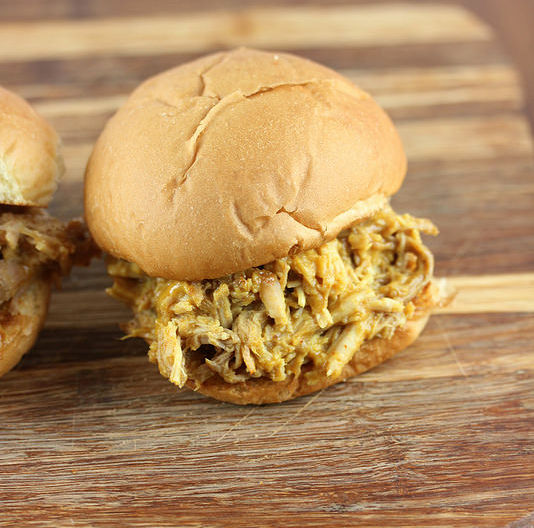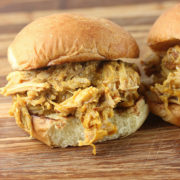 Mustard BBQ Pulled Pork
Ingredients:
1 (4-5 pound bone-in) pork shoulder roast
Dry Rub-
1 tablespoon mild paprika
2 teaspoons light brown sugar
1 1/2 teaspoons hot paprika
1/2 teaspoon celery salt
1/2 teaspoon garlic salt
1/2 teaspoon dry mustard
1/2 teaspoon freshly ground black pepper
1/2 teaspoon onion powder
1/4 teaspoon salt
Mustard BBQ Sauce-
3/4 cup prepared yellow mustard
1/2 cup honey
1/4 cup cider vinegar
2 tablespoons ketchup
1 tablespoon brown sugar
2 teaspoons Worcestershire sauce
1 teaspoon hot sauce
Directions:
Prepare the dry rub by mixing all of the seasonings in a small bowl.
To prepare the bbq sauce-- in a small bowl whisk together all of the sauce ingredients.
Place the pork roast into the bottom of the slow cooker. Rub the pork on all sides with the dry-rub. Cover and cook on low for 8 hours. Shred the roast using two forks and discard the bones. Return the shreded pork to the slow cooker and stir in the mustard bbq sauce.