Potato and Sausage Casserole Recipe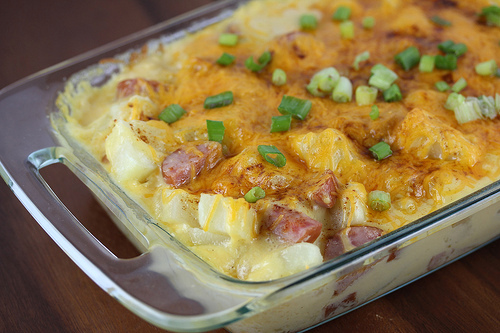 With the holidays coming up soon casserole recipes make some of the best side dishes for Thanksgiving and Christmas. This potato and sausage casserole is an excellent choice to add to your holiday dinner menu. This casserole consists of potatoes, smoked sausage, and it is topped with a delicious cheese sauce. The cheese sauce gets most of its flavor from Velveeta cheese. This recipe does take a little work to prepare because you need to peel all of the potatoes and then make the sauce, but it is worth it. If you don't like smoked sausage you could replace with it cubed ham instead. This casserole could be served for a main course or as a side dish. Enjoy.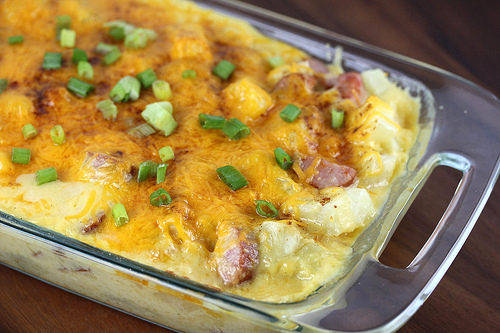 Ingredients:
4 cups Idaho potatoes (peeled and cut into cubes).
4 tablespoons butter
4 tablespoons flour
2 cups milk
½ teaspoon salt
¼ teaspoon pepper
½lb Velveeta cheese (diced)
½ cup sharp cheddar cheese (shredded)
1lb skinless smoked sausage
1/8 teaspoon paprika
2 green onions (sliced)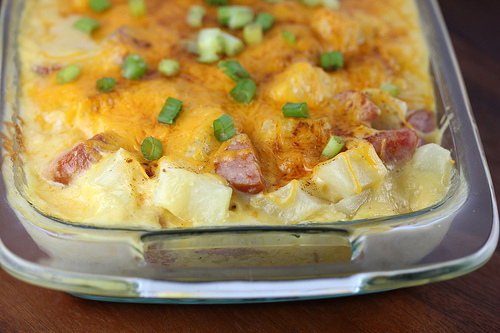 Cooking Instructions: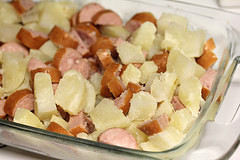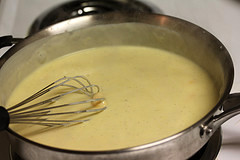 Step 1: Pre-heat the oven to 350 degrees. Place potatoes into a large saucepan; add enough water to cover the potatoes. Cover and bring to a boil. Reduce heat and simmer for 20 minutes or until the potatoes are tender (it could be less time or longer depending on the size of the potato cubes). Drain.
Step 2: Cut the sausage in half lengthwise and then chop it into ½ inch cuts. Cook in the frying pan for about 15 minutes to brown slightly. Lightly grease a 2-quart casserole dish. Add the cooked potatoes chunks to the casserole dish, and add the cooked sausage chunks, and toss lightly to combine.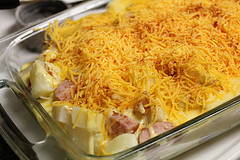 Step 3: Melt butter in a large sauce pan over medium heat, whisk in flour. Cook for 2-3 minutes while whisking. Slowly add milk, a little at a time while whisking constantly. Whisk until the mixture becomes thickened. Add cubed Velveeta and whisk until the sauce is smooth. Remove from heat. Season with salt and pepper and mix well.
Step 4: Pour the cheese sauce over the potatoes and sausage in the casserole dish. Sprinkle shredded cheddar cheese on top, and then sprinkle paprika on top of the cheese. Place into the oven and bake at 350 degrees for 35-45 minutes. Remove from the oven and top with green onions.
(Makes 4 Servings)