Red Robin Bonzai Burger Recipe

These are very similar to the Bonzai Burger that is served at Red Robin. The Bonzai burger is a teriyaki glazed beef patty that is grilled and topped with cheddar cheese, tomato, pineapple, and lettuce. I really enjoy the flavor combination of the teriyaki sauce and the pineapple ring. You can either use an outdoor grill or an indoor grill pan for this recipe. For the teriyaki sauce, you can use your favorite brand from the store of make your own. This is a great recipe for summer outdoor grilling. Enjoy.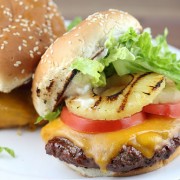 Red Robin Bonzai Burger
Ingredients:
1 1/2lbs ground beef
2 cups teriyaki sauce
8 pineapple rings
8 slices cheddar cheese
4 hamburger buns
4 tablespoons mayonnaise
4 sesame seed hamburger buns
8 slices of tomato
1 cup shredded romaine lettuce
Directions:
Shape the ground beef into 4 patties. Place the patties into a bowl and marinade in the teriyaki sauce for 30 minutes. Lightly grease the grates of an outdoor grill. Heat an outdoor grill to medium-high heat. Remove the burger patties from the marinade and place onto the grill.
Grill the burger patty flipping at least ounce until fully cooked (the internal temperature has reached 160 degrees F.). During the last few minutes of cooking top each burger patty with 2 slices of cheddar cheese and cook until the cheese has melted. Remove from the grill.
Place the pineapple rings onto the grill and grill for 1 minute on each side.
Optional step: Turn the heat to low on the grill, and place the buns cut side down and cook until toasted, being careful not to burn the buns.
Spread mayonnaise on both halves of each bun. On the bottom bun add the burger patty, followed by 2 slices of tomato, 2 pineapple rings, and some romaine lettuce. Place the top half of the bun onto the burger, mayonnaise side down.