Shrimp with Lobster Sauce Recipe

Here is a delicious recipe for shrimp with lobster sauce just like they make at the Chinese restaurants. There is no actually no lobster in this sauce but there is egg and ground pork. There a few different ways that this recipe is prepared—mostly with or without ground pork. You can also add peas and carrots to the sauce if you wish. To get the sauce a darker color, just add more soy sauce but be careful because you do not want the sauce to become too salty. You can use medium or large shrimp whichever you choose—I like to get them already peeled and deveined to save some time. This dish goes great serve with white rice or fried rice. Enjoy.

…and the version with peas and carrots and no ground pork.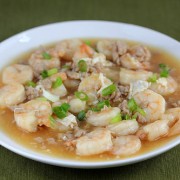 Shrimp with Lobster Sauce
Ingredients:
1 ½ teaspoons cornstarch
2 teaspoon cooking sherry
1lb medium raw shrimp (peeled and deveined)
4 tablespoons vegetable oil
2 garlic cloves (minced)
1/4lb ground pork
1 cup water
2 tablespoons soy sauce
¼ teaspoon sugar
½ teaspoon salt
1 ½ tablespoons cornstarch
¼ cup cold water
1 egg (beaten)
Directions:
In a medium bowl dissolve 1 ½ teaspoons of cornstarch in the cooking sherry. Add the shrimp to the bowl and toss to coat.
Heat oil in a wok or large skillet over medium-high heat. Add the shrimp and stir-fry until pink (about 3-5 minutes). Remove the shrimp to a plate with a slotted spoon (try and leave as much oil in the pan as possible). Add the garlic and stir-fry for a few seconds, and add the ground pork. Stir-fry the pork while breaking it up into small chunks with a spatula or spoon until the pork is no longer pink.
Combine 1 cup of water, soy sauce, sugar, and salt. Stir into the wok with the pork. Bring to a boil. Reduce heat to medium and cover. Simmer for about 2 minutes. Mix the remaining 1 ½ tablespoons of cornstarch with ¼ cup of cold water. Pour the cornstarch mixture into the pan with the pork and return the shrimp to the pan. Return to a simmer and stir quickly while drizzling in the beaten egg.