Sloppy Joe French Bread Pizza Recipe

Using French bread as the crust for this sloppy joe French bread pizza makes it so easy to prepare. French bread is topped with prepared sloppy joe meat and cheese and then baked to perfection in the oven. The sloppy joe meat consists of ingredients such as ground beef, bell pepper, onion and tomato sauce. For the cheese I used a blend of Colby and Monterey jack but several other types of cheeses such as cheddar would be great as well. I like to serve this sloppy joe French bread pizza with a salad on the side. Enjoy.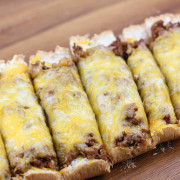 Sloppy Joe French Bread Pizza
Ingredients:
1lb ground beef
½ cup chopped onion
¼ cup chopped bell pepper
1 teaspoons of minced garlic
1 (8 ounce) can tomato sauce
1 tablespoon brown sugar
2 teaspoons Worcestershire sauce
1 teaspoon seasoning salt
1 loaf of French bread
1 cup shredded Colby-jack cheese
Directions:
In a large skillet brown the ground beef over medium-high heat while breaking up into chunks with a spatula or spoon. Add the onions, bell pepper and garlic. Drain any excess grease. Cook for 1-2 minutes. Add the tomato sauce, brown sugar, Worcestershire sauce, and seasoning salt. Allow to cook on low for about 10 minutes.
Preheat the oven to 350 degrees F. Slice the French bread in half lengthwise. Spoon the sloppy joe meat over the French bread halves and top with cheese.
Place onto a baking sheet and bake for 7-9 minutes or until the bread is lightly browned and the cheese is melted.