Steak Gorgonzola Recipe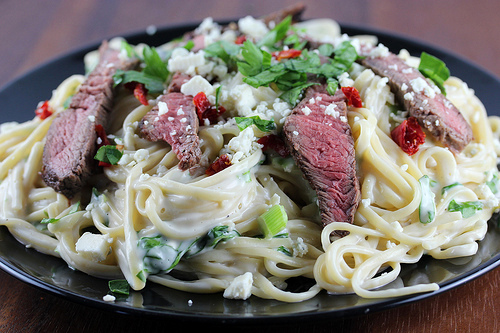 The combination of grilled steak and Gorgonzola cheese is truly delicious and amazing. This recipe for steak Gorgonzola consists of marinated steak, alfredo sauce, Gorgonzola cheese, and pasta. Apparently they have this at the Olive Garden, but I have never tried it. The original recipe called for a balsamic vinegar glaze but I could not find it, so I decided to leave it out. The steak is marinated in Italian dressing, fresh rosemary, and lemon juice. The steak should marinate for at least an hour and if you want the best results, you should allow the steak to marinate overnight in the refrigerator. You can grill the steak using either an outdoor grill or an indoor grill pan.  The best part about this recipe is probably the sauce. The sauce consists of alfredo sauce, green onion, spinach, and Gorgonzola cheese. This makes an amazing dinner for any night of the week. Enjoy.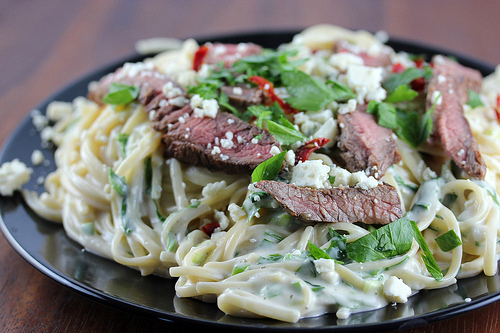 Ingredients:
2 1/2lbs boneless beef top sirloin steaks
1 ½ cups Italian dressing
1 tablespoon fresh rosemary (chopped)
1 tablespoon fresh lemon juice
1lb linguini pasta
2 cups fresh spinach (chopped)
4 cups alfredo sauce
½ cup green onion (chopped)
3 tablespoon gorgonzola cheese (crumbled)
2 tablespoons gorgonzola cheese (crumbled, for sprinkling)
2 tablespoons sun-dried tomatoes (chopped)
fresh Italian parsley (chopped)
Cooking Instructions: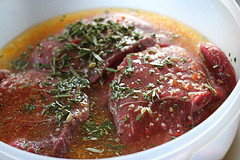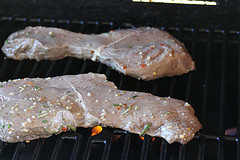 Step 1: In a large bowl or sealable zip-lock bag combine Italian dressing, rosemary, and lemon juice. Add steak and toss to coat. Cover and refrigerate for at least 1 hour (overnight for best results).
Step 2: Bring a large pot of salted water to a boil. Add linguini and cook according to package directions. Drain and set aside.
Step 3: Lightly grease the grill grates of an outdoor grill. Heat the grill to medium-high heat. Remove steak from the marinade and place onto the grill. Grill steak, turning once until it has reached your desired doneness. Remove steak from the grill and slice it into strips.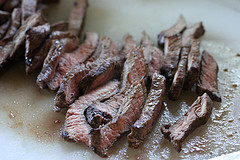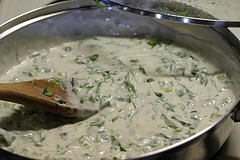 Step 4: In a large sauté pan heat the alfredo sauce. Add green onion, spinach, and 3 tablespoons of Gorgonzola cheese. Cook until heated through.
Step 5: Mix cooked linguini with the alfredo sauce mixture. To assemble each plate- place some of the alfredo/noodles mixture onto each plate. Top with grilled steak slices, remaining Gorgonzola cheese, sun-dried tomatoes, and chopped fresh parsley.
(Makes 6 Servings)