Street Tacos Recipe

These are steak tacos just like you can find from a food truck on the street. These tacos include carne asada steak, queso fresco cheese, onion and cilantro. A squeeze of fresh lime juice on each taco before serving really helps to create an amazing flavor. The steak is marinated in ingredients such as lime juice, orange juice, cilantro and garlic. The best way to cook the steak is on an outdoor grill but you could use a skillet as well. You can use either corn or flour tortillas for this recipe. I also like to put hot sauce on these tacos for serving. Enjoy.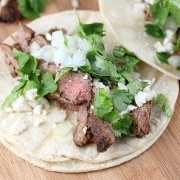 Street Tacos
Ingredients:
1lb flank steak
12 corn tortillas
Marinade-

3 limes (juiced)
1 orange (juiced)
¼ cup olive oil
6 garlic cloves (minced)
½ jalapeno pepper (finely chopped)
1 teaspoon cumin
½ teaspoon chili powder
½ teaspoon oregano
½ teaspoon salt
several grinds of ground black pepper
¾ cup chopped cilantro
Garnish-

chopped cilantro
diced white onion
lime wedges
queso fresco cheese
Directions:
In a small bowl combine lime juice, orange juice, olive oil, garlic, jalapeno, cumin, chili powder, salt, pepper and ¾ cup cilantro. Mix well. Put steak and the marinade into a zip lock bag and let the steak marinate in the refrigerator for a few hours.
Remove the steak from the marinade. Lightly grease the grates of an outdoor grill. Heat the grill to medium-high heat. Place the steak onto the grill and cook until it has reached your desired doneness (medium-rare preferred).
Remove the steak from the grill and let it rest for a few minutes. Slice the steak against the grain into thin strips. Warm the tortillas according to package directions. Place some of the steak into the tortillas (use two tortillas per taco), top with cheese, cilantro, onion and a squeeze of lime.