Braeburn apples date back to 1952 when O.Moran first discovered them. He was a farmer that lived in the Moutiere hills region of New Zealand. O.Moran found a very unfamiliar-looking chance seedling by the side of the road. He picked one of the apples and brought it to the Williams Brothers nursery. The apple was examined and identified as a possible cross between Lady Hamilton and Granny Smith, and the Williams Brothers immediately recognized its commercial strength and incredible flavors. The apple was then grafted and cultivated for sale.
Apple Nutrition Facts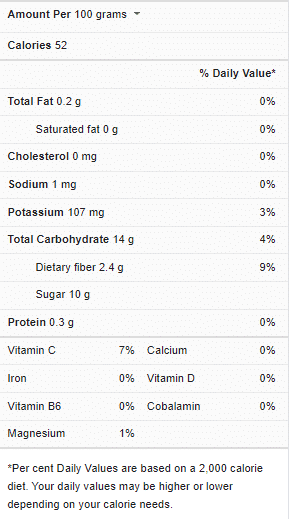 Braeburn apples have a red hue with an undertone of yellow to light green, with a cream-colored to the golden interior. They're loved by many due to their flavor and texture. They're among the top 15 most common apple variants in the United States and one of the best-tasting apples available. They have a rich spiced apple cider reminiscent flavor and are perfect for making apple juice.
Uses
Braeburn apples have a delightful flavor. It's a blend of classic apple taste like McIntosh apple, but with a more cinnamon and nutmeg note that feels like eating apple pie off of a tree. In a perfectly ripe Braeburn apple, you'd realize a sweet and tart flavor with a hint of melon or pear. They're juicy, firm, crispy, and perfect as a snacking apple, so you can eat them alone. They can be served alongside a range of cheeses. It has enough acid to hold its shape when baked, and it's used to make pies. Braeburn apples also make juices, sauces, and apple cider. Braeburn apples are very versatile, and they're used for several dishes and in different ways for baking, desserts, grilling, topping, jams, jellies, drinks, preservatives, salads, sauces, butter, sides, on a stick, and dipping. They're a staple in so many recipes from around the world, some of which are;
Substitutes for Braeburn  Apples
Braeburn apples are plentiful, delicious, and good for almost everything apples are used for. But if for any reason you find it unavailable, not suitable for you or clientele, or want to try new things, there're other apples you can try. One or a few features of Braeburn apples might be why your recipe calls for it is also present in another apple. Choose from the list below and enjoy your apple-based dish.
Granny Smith Apples

This is practically the most thought substitute for Braeburn apples in any recipe. They're the most widely used apples in any recipe. They're prevalent and widely available. Granny Smith apples have a firm texture and a mildly sour flavor. They're high-quality apples that are very good for making pies, especially apple pies. They're practical options, and they hold their shape and green color even after cooking.
Fuji Apples

This is another excellent substitute for Braeburn apples. They're apples that can create a sour and sugar flavor combination. Fiji apples have been around since the 1930s and are native to Japan. They work very well to replace Braeburn apples in muffins, tarts, and galettes. They can also retain their flavor and texture even when baked in the oven.
Gala Apples

These apples are another great substitute for replacing Braeburn apples in salads. Gala apples have superb qualities, they're of a mellow flavor, and their flesh is pretty creamy. You can dice them into any recipe without worry, and gala apples won't get brown once they're cut.
Jonamac Apples
Jonamac apples are another splendid and reasonable options to try when you're thinking of a substitute for Braeburn apples. They're recognized as hybrid apples and are available in the earlier months of the fall season. Jonamac apples have a very crunchy feel with a mildly spicy flavor. Although these flavors are not generally acceptable, it's still an excellent substitute for Braeburn apples. It's suitable for snacking.
Honeycrisp Apples

This is another excellent substitute for Braeburn apples. It's usually called crisp apples, and they have a firm texture. Honey apples won't break down or become mushy when baked or cooked, and they'll hold their appearance. These apples are readily available and are very versatile. They're crisp and juicy in texture and can be served alone. They're also an excellent ingredient for baking, and they have a sweet and honey-like flavor that serves many flavors. Regardless of this tasty flavor profile, it's mild and won't overpower the general flavor.
Frequently Asked Questions (FAQs)
What apple is similar to Braeburn?
Some apple trees are similar to Braeburn apples. They're Winter gem, Red Falstaff, Meridian, Chivers delight, and Rajka.
Do Braeburn apples have another name?
Braeburn apples themselves are named after the first commercially grown orchard near Motueka In New Zealand.
How can you tell a Braeburn apple?
There're a few features to note when identifying Braeburn apples. Firstly, the flesh ranges from white to greenish-yellow. It's of medium or large size, conical or oblong conical shape, flat sides, with few medium-sized seeds.
Conclusion
Braeburn apples are a gift from nature, as they were sent to stand out and be different. They're packed with flavors, delicious juice, and lots of nutrients. They're also very versatile ingredients, used in numerous recipes worldwide to serve different purposes. These apples may be readily available in many regions but not so available in some. So what do you do if a recipe that calls for Braeburn apples and you're in Japan where fuji apples are rampant? In your recipes, this article has helped you list other great apples and adequate substitutes for Braeburn apples. They'll take your recipes very close to what you get when you use Braeburn apples in your recipes.