Vinegar is a very important ingredient in the kitchen. It is an ingredient used in baking, making salad dressing, in making the marinade, and can also be used to transform milk into a buttermilk substitute. Vinegar can also be used to preserve food, improve flavor, fill in for missing ingredients, and even make food look better. There many kinds of vinegar in the market, from balsamic to apple cider to distilled white. Each vinegar has its distinct flavor and purpose in the kitchen. This might cause you to purchase different types of vinegar. However, you do not have to store too many types of vinegar in your kitchen. There are many other substitutes you can use if you don't have the specified vinegar for your recipe. This article will help you in finding a substitute for white balsamic vinegar. 
White Balsamic Vinegar Nutrition Facts: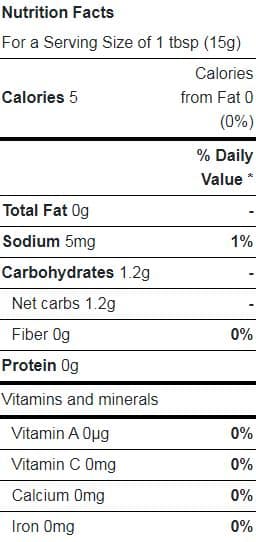 What is White Balsamic Vinegar
Like traditional balsamic vinegar, white balsamic vinegar is made from the Trebbiano grape. While the traditional balsamic vinegar is cooked and concentrated on producing a rich flavor with a deep and dark color, the white balsamic vinegar is cooked at high pressure to prevent caramelization, giving it a golden color gentler flavor. Although it lacks the rich caramelized flavor of traditional balsamic vinegar, it has a sweet-and-sour balance of traditional balsamic vinegar with an acidity level of about 5% to 7%. Traditional balsamic vinegar can be aged for more than 25 years, while white balsamic vinegar is aged between 1-12 years.
White balsamic vinegar can be used for salad dressings, sauces, or deglazing. White balsamic vinegar is usually used to substitute regular balsamic vinegar because of its color and lighter flavor.
Substitute for White Balsamic Vinegar
If you're making a recipe that requires white balsamic vinegar and you don't own it or even know what it is, this article can help you find the perfect substitute for white balsamic vinegar. Since white balsamic vinegar, like other vinegar types, is made from grapes, they can be substituted by wines, other types of vinegar, or other acids. 
The substitute for white balsamic vinegar are: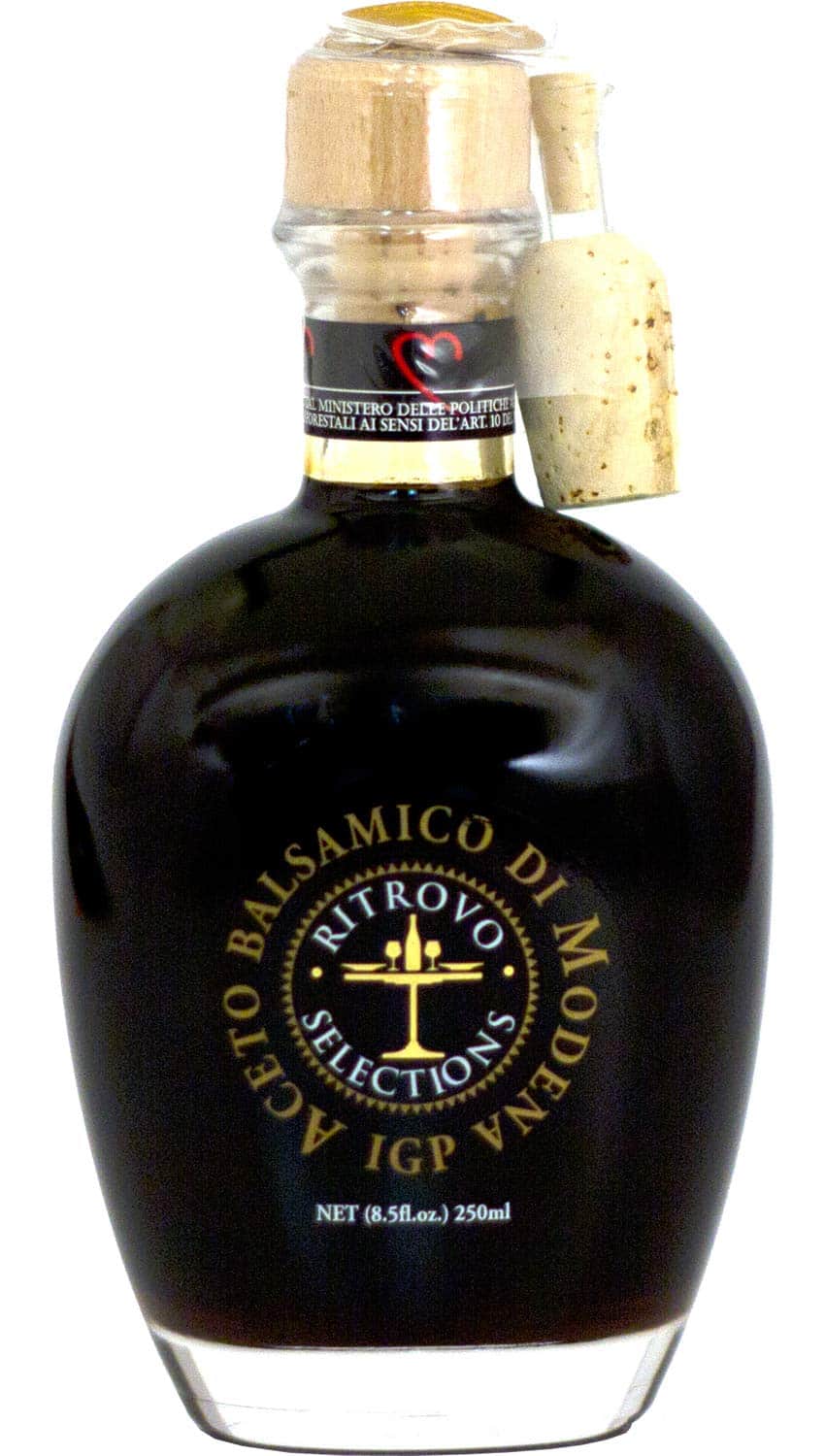 Balsamic vinegar is made from the Trebbiano grape and is considered one of the most commonly used vinegar. They are aged in a series of seven barrels of successively smaller sizes for a minimum of 12 years. Some balsamic vinegar is aged for over 25 years, whereas white balsamic vinegar is aged around 1-12. The older the balsamic vinegar gets, the more expensive it becomes. 
This vinegar gets its flavor from being caramelized over an open wood fire in copper kettles and from fired wooden barrels where the balsamic vinegar is stored. The barrels are made from oak, chestnut, acacia, cherry, mulberry, ash, and juniper wood, giving the vinegar an additional flavor. It has a deep brown color with a syrupy texture and slight sweetness and is often used to add a sweet acidity to Italian and Mediterranean foods.
The balsamic vinegar is the perfect substitute for white balsamic vinegar because they have very similar flavors. The only difference between the two is that the balsamic vinegar is slightly sweeter and more syrupy than the white balsamic vinegar. So, it can be used as an alternative to white balsamic vinegar in any recipe. However, because of its dark color, it cannot be used with light-colored foods, dressings, or sauces as it may cause the food to be discolored. 


White wine vinegar is another great substitute for white balsamic vinegar. It is a white wine fermented and oxidized into acid with a lightly fruity flavor. This takes place in stainless steel vats called acetates that expose ethanol in the wine to oxygen. The resulting acid is then diluted with water to a palatable acidity level of about 5 to 7 percent. 
Make sure you use the same amount of white wine vinegar when substituting white balsamic vinegar in your recipe. White wine vinegar can pickle fruits and vegetables, marinate meat, deglaze pans, and make sauces. It is also used in light-colored sauces and light-colored dressings, where a darker vinegar would give the wrong color. 
Like the white balsamic vinegar, it has a very soft taste and a clear to golden color, perfect for making light-colored food. The only difference between white balsamic vinegar and white wine vinegar is the acid's strength, which isn't noticeable while cooking.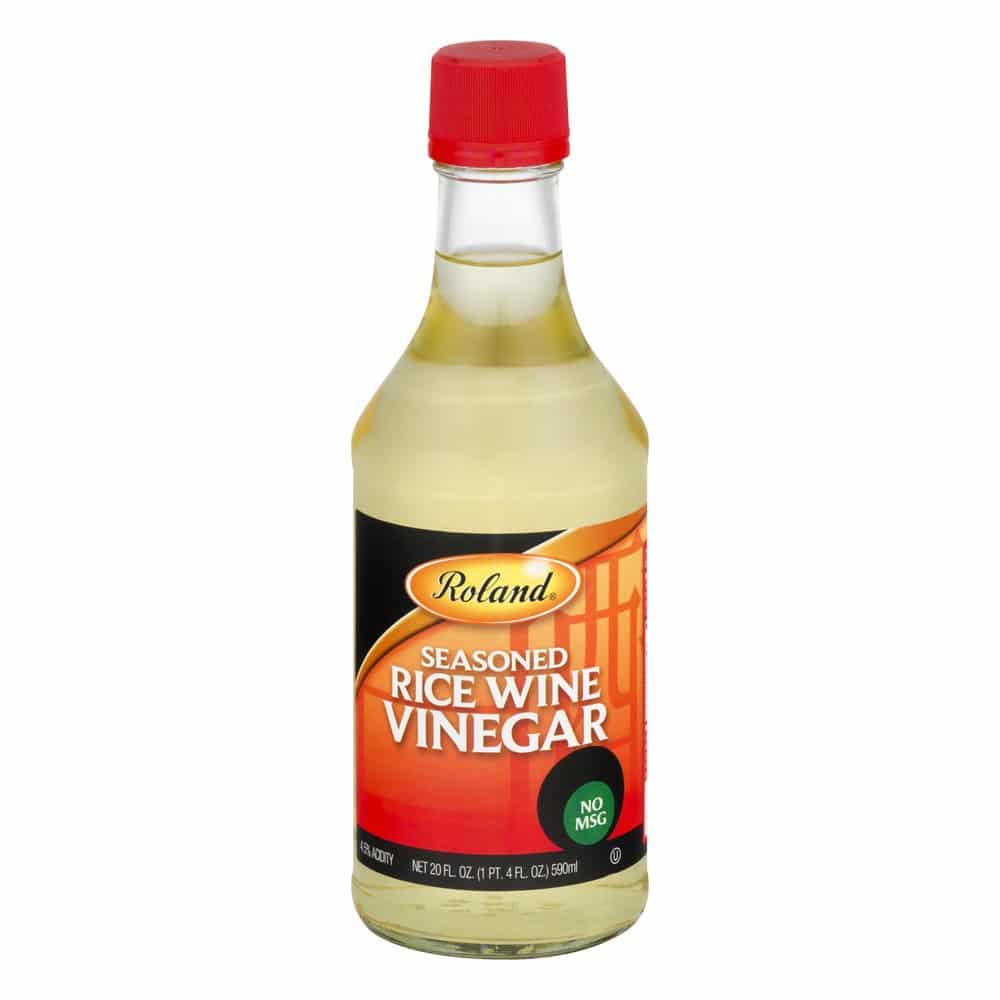 The rice wine vinegar is a mildly flavored vinegar made from rice with a lesser acidity than other vinegar types. Rice wine and rice vinegar are used majorly in Asian cooking (Chinese, Japanese, Korean and Vietnamese cuisines). It is a mild vinegar and can be used in salad dressings. Although it is called rice wine vinegar, it is not made from rice wine, and rather it is made from rice. Rice wine vinegar is made by fermenting the sugars from rice into alcohol, and then the wine is further fermented into acetic acid. 
The rice wine vinegar has a similar flavor as the white balsamic vinegar, except that rice wine vinegar is sweeter than the latter. Like white wine vinegar, rice wine vinegar is perfect for light-colored food like salads, etc.
Frequently Asked Questions [FAQs]
What is white balsamic vinegar made of?
Balsamic vinegar is made with Trebbiano (freshly crushed fruit juice that contains the skins, seeds, and stem of the fruits) that has been pressure cooked so that the sugars in the grape juice will not caramelize and change color.
How should balsamic vinegar be stored?
Balsamic vinegar should be stored by keeping it in a cool and dark place. Because exposing it to heat and sunlight can alter its flavor. Just make sure to close it tightly after use.
What is the difference between white wine vinegar and white distilled vinegar?
The distilled white vinegar is made from a grain alcohol mix and has a strong, sharp flavor, and is often used for pickling food. While white wine vinegar is made from white wine, it has a milder flavor than distilled white vinegar.
Conclusion
That is it on the substitute for white balsamic vinegar. I hope that you find the substitute for white balsamic vinegar discussed in this article to be very useful.