Totchos Recipe

Totchos are what is created when you bring tater tots and nachos together. These tatchos are tater tots that are baked in the oven and topped with taco meat and cheese. What I like about this recipe is how easy it is to prepare. Totchos are a perfect appetizer to serve at parties. You can top these tater tot nachos with just about anything that goes good on tacos. Some good options would be salsa, sour cream, lettuce and tomato. Enjoy.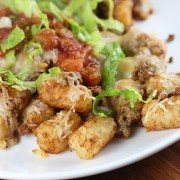 Totchos Recipe
Ingredients:
1 (16 ounce) bag frozen tater tots
1/2lb ground beef
2 tablespoons taco seasoning mix
3 tablespoons water
1 ½ cups Mexican cheese blend
Directions:
Preheat the oven to 425 degrees F. Line a baking sheet with aluminum foil. Place frozen tater tots onto the baking sheet. Place into the oven and bake according to package directions.
Cook the ground beef in a medium skillet over medium heat for 8-10 minutes or until cooked through while breaking up into small chunks with a spatula or spoon. Add the taco seasoning mix and water and cook for about 2 minutes more or until hot and bubbly.
Once the tater tots are finished cooking, remove them from the oven and top with the taco meat and cheese. Return to the oven and bake for 3 to 5 minutes longer or until the cheese has melted. Top with any taco ingredients you choose.