Tuna Noodle Casserole Recipe

Tuna noodle casserole is very simple and easy to prepare. This recipe combines cooked egg noodles with cream of mushroom soup, cream of chicken soup, tuna, and peas. The casserole is topped off with shredded cheese and French fried onions for a nice crunch. You can use rotini in place of the egg noodles if you want. If you are looking for a quick and easy casserole dish that uses tuna, give this one a try. Enjoy.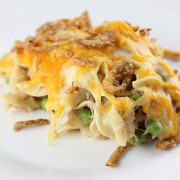 Tuna Noodle Casserole
Ingredients:
3 cups egg noodles
1 (10 ¾ ounce) can cream of chicken soup
1 (10 ¾ ounce) can cream of mushroom soup
1 (5 ounce) can tuna in water, drained
½ cup frozen peas
1-2 cups shredded cheddar cheese
3 ounces French fried onions (or more if desired)
Directions:
Preheat the oven to 350 degrees F. Cook the egg noodles according to package directions. Drain and set aside.
In a large bowl mix together cream of chicken soup, cream of mushroom soup, tuna and peas. Stir the cooked egg noodles into the mixture until well combined.
Place into a casserole dish and top with shredded cheese. Place into the oven and bake for 25 minutes. Remove from the oven after 25 minutes and top with French fried onions. Return to the oven and bake for 5 minutes or until the onions are golden brown.