Turkey Pot Pie Recipe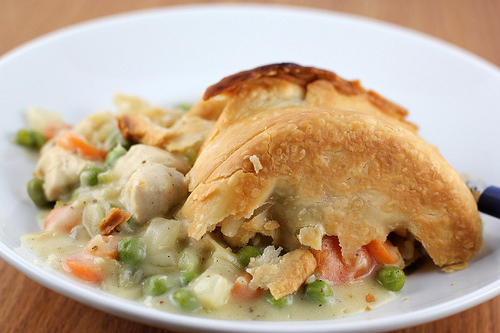 Turkey pot pie is an excellent way to use up leftover turkey. If you have ever made pot pie before you know it takes a little work but the end result is amazing. A local restaurant here in Michigan makes some of my favorite pot pie and I just had to make it at home. This pot pie combines cooked turkey with a nice sauce and vegetables such as carrots, peas, and celery. If you don't want to use turkey, you can use chicken instead. In this recipe I will assume the chicken or turkey you are using is raw, and provide cooking Instructions to follow. This is a recipe that is sure to please almost anyone. Enjoy.


Ingredients:
1lb turkey or chicken (cubed, can use raw or leftover cooked turkey)
1 cup carrots (sliced)
1 cup frozen green peas
½ cup celery (sliced)
1/3 cup butter
1/3 cup onion (chopped)
1/3 cup all purpose flour
½ teaspoon salt
¼ teaspoon black pepper
¼ teaspoon celery seed
1 ¾ cups chicken broth
2/3 cup milk
2 (9 inch) unbaked pie crusts
Cooking Instructions: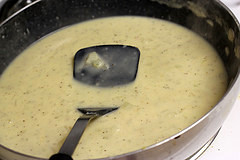 Step 1: Pre-heat the oven to 425 degrees. Grease a 9 inch pie dish and press one of the pie crusts onto the bottom of the pie dish, set aside. In a saucepan add turkey or chicken (if the meat is already cooked, just add it in the last couple minutes of cooking to heat it through). Add carrots, peas, and celery. Add enough water to the pan to cover the meat and vegetables and bring to a boil. Boil for 15 minutes, remove from heat, drain and set aside.
Step 2: In the same saucepan over medium heat, melt butter. Add onions and cook until they are soft. Stir in flour, salt, pepper and celery seed. Slowly stir in the chicken broth and milk. Simmer over medium-low heat until the mixture becomes thick. Remove from heat and set aside.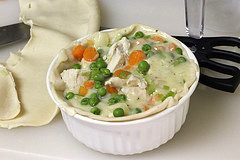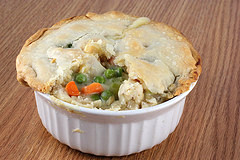 Step 3: Place the turkey and vegetable mixture on top of the bottom pie crust. Pour the thickened chicken broth mixture over the meat mixture. Cover with the top crust, seal edges and cut away any excess dough. Make several small slits in the top to allow the steam to escape.
Step 4: Place into the oven and bake at 425 degrees for 30 to 35 minutes or until the top is golden brown and the filling is bubbly.
(Makes 4 Servings)