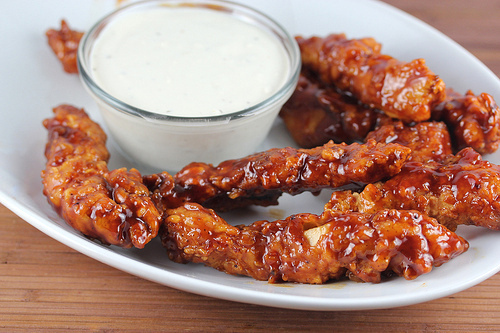 These crispy BBQ chicken strips are great for dinner any night of the week. They are one of my favorite ways to prepared breaded chicken. The process to making these delicious chicken strips is not hard at all. The chicken strips are coated with a flour mixture and then deep fried and mixed with your favorite BBQ sauce. This recipe calls for store bought BBQ sauce with a few ingredients added. You can use whatever brand you prefer, or even make your own.  If you decide to make your own honey BBQ sauce, you do not need to add the extra sauce ingredients. I would recommend serving the chicken strips immediately after coating them with the BBQ sauce, to ensure that they are still crisp while serving. This is an excellent recipe for the upcoming football season. Enjoy.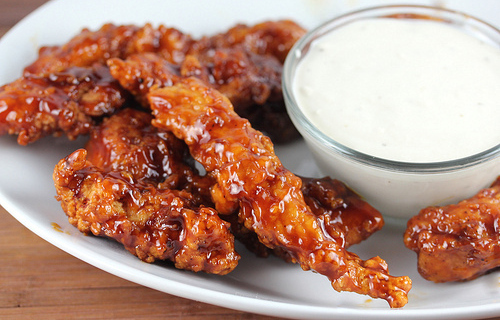 Ingredients:
2lbs boneless skinless chicken breasts (cut into strips)
2 ¾ cups all purpose flour
1 teaspoon salt
black pepper (to taste)
1 cup buttermilk
vegetable oil (for deep frying)
Honey BBQ sauce-
1 cup hickory flavored BBQ sauce
¼ cup water
2 tablespoons honey
1 tablespoon ketchup
½ teaspoon liquid smoke
Cooking Instructions: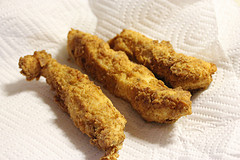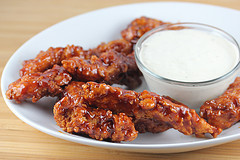 Step 1: In a medium saucepan combine BBQ sauce, water, honey,  ketchup , and liquid smoke. Mix well and simmer on low heat for 20 minutes. Allow the sauce to cool slightly when finished simmering.
Step 2: Meanwhile, in a pie dish combine flour, salt and pepper. Set aside. Place the buttermilk into a separate bowl. Heat oil in a deep fryer to 375 degrees. Dip chicken strips first into the flour mixture, then into the buttermilk, and then again in the flour mixture. Repeat until all chicken strips are well coated.
Step 3: Place into a deep fryer and deep fry the chicken strips in batches, until golden brown and fully cooked (the internal temperature has reached 165 degrees). Drain on paper towels. Toss chicken strips with the BBQ sauce and serve immediately.
(Makes 4 Servings)
If you enjoyed this article Subscribe to my RSS Feed.