This recipe for beef tips is so delicious and easy to prepare you will probably want to add it to your weekly rotation of meals. Beef tips consist of cubed beef that is cooked in a gravy mixture and is served over egg noodles or mashed potatoes. This recipe uses cubed stew meat so you can save time and do not have to cut up the beef yourself. The gravy is a mixture of soy sauce, Worcestershire sauce, and packet gravy. If you want to reduce the sodium in the recipe a little, you can use low sodium soy sauce. What is great about this recipe is that it can either be cooked in the stove-top or cooked in the slow-cooker. If you are using the slow-cooker, add all of the ingredients (you an omit the vegetable oil) except for the gravy and water into the slow-cooker and cook for 4-5 hours on low. Then mix the packet gravy with about ½ cup of cold water and add it to the slow cooker and continue cooking until the gravy has thickened. Enjoy.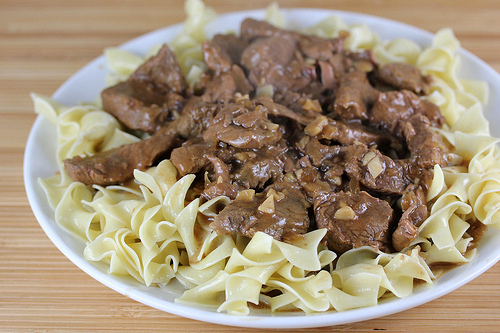 Ingredients:
3 tablespoons vegetable oil
1 onion (chopped)
2lbs cubed beef stew meat
2 cups water
¼ cup soy sauce
¼ cup Worcestershire sauce
2 fresh garlic cloves, minced (or 1 teaspoon garlic powder)
1 teaspoon ground black pepper
1 (.75 ounce) packet dry brown gravy mix
1/2 cup water
Cooking Instructions:
Step 1: Heat vegetable oil in a large deep skillet over medium-high heat. Sautee the onion until almost translucent. Add the strew meat and cook until the meat is browned on all sides (about 3-5 minutes).
Step 2: pour 2 cups of water, soy sauce, and Worcestershire sauce into the skillet. Stir in garlic, salt, and pepper. Bring to a boil and reduce heat. Cover and simmer for 1 ½ hours.
Step 3: Meanwhile, combine the gravy mix with 1/2 cup of cold water. Mix thoroughly and stir into the meat mixture. Bring to a boil stirring frequently until the gravy has thickened slightly. Serve over egg noodles or mashed potatoes.
(Makes 6 Servings)
If you enjoyed this article Subscribe to my RSS Feed.