Blackened Salmon Recipe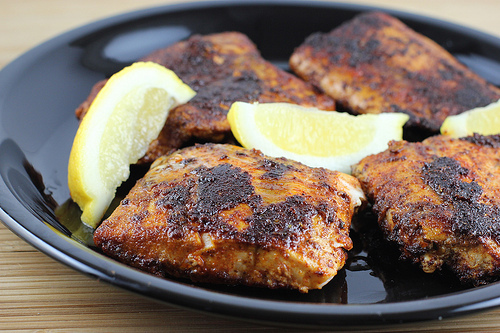 If you enjoy spicy and well seasoned salmon fillets this recipe for blackened salmon is perfect for you. This recipe uses numerous spices to create a nearly perfect seasoning. There is also a good chance that you already have all of these spices on hand. Just as the name says, the fillets are dipped in butter, well seasoned and then fried in the pan until blackened. What's also great about this recipe is how easy and fast it is to prepare. You can have this on the table in just a few minutes. Enjoy.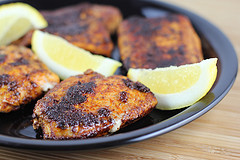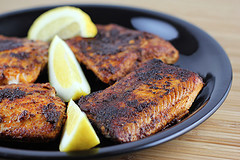 Ingredients:
4 salmon fillets (skin and bones removed)
2 tablespoons paprika
1tablespoon cayenne pepper
1 tablespoon onion powder
2 teaspoons salt
½ teaspoon ground white pepper
½ teaspoon ground black pepper
¼ teaspoon thyme
¼ teaspoon basil
¼ teaspoon oregano
½ cup butter (melted)
Cooking Instructions: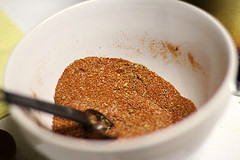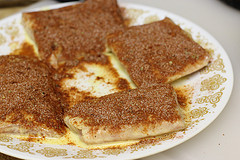 Step 1: In a small bowl combine paprika, cayenne pepper, onion powder, salt, white pepper, black pepper, thyme, basil and oregano. Mix well. Brush the salmon fillets lightly on both sides with melted butter. Sprinkle evenly on both sides with the seasoning mixture. Drizzle one side of each fillet with butter.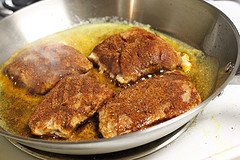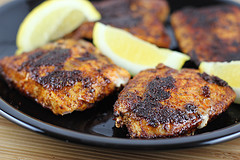 Step 2: Heat a large skillet to high heat. Add salmon butter side down and cook until the bottom is blackened (2-5 minutes). Drizzle the other side with remaining butter. Flip the salmon fillets and cook until blackened and the fish flakes easily.
(Makes 4 Servings)