Blueberry Bread Recipe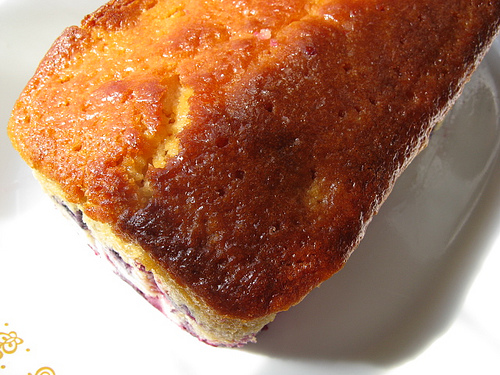 Today I tried a recipe for blueberry bread (or maybe it's more like a cake or a loaf) that I'm going to share with you. Yeah, before you say anything – my blueberries all sunk to the bottom L. I wasn't very happy about that but it still tasted great at least. I wanted to use wild blueberries as they work better, but unfortunately I couldn't find any at this time of year. I came across this recipe on Smitten Kitchen and decided to give it a try. If you choose a lot of variations could be made to this recipe – maybe instead of using blueberries use blackberries or raspberries? You could also consider adding some of your favorite chopped nuts into the bread. What I really like about this recipe is how moist it came out and the great lemon flavor it has. This recipe for blueberry bread is a great combination of yogurt, blueberries, and lemon. Give it a try and let me know what you think.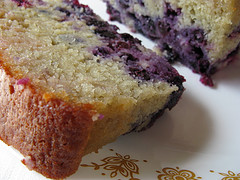 Ingredients:
1 1-/2 cups all purpose flour
1 tablespoon flour (for blueberries)
2 teaspoons baking powder
½ teaspoon kosher salt
1 cup plain yogurt
1 cup sugar
1 tablespoon sugar
3 extra large eggs
2 teaspoons grated lemon zest
½ teaspoon vanilla extract
½ cup vegetable oil
1 ½ cups blueberries (fresh of frozen)
1/3 cup lemon juice (freshly squeezed)
Cooking Instructions: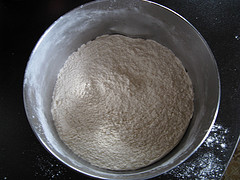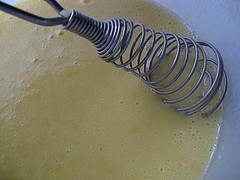 Step 1: Grease and flour a 8 ½ x 4 ¼ x 2 ½ inch baking pan. Preheat the oven to 350 degrees. In bowl mix 1 ½ cups flour, salt, and baking powder. Set aside.
Step 2: In another bowl whisk together yogurt, eggs, sugar, lemon zest, oil and vanilla extract. Slowly mix the wet and dry ingredients together into one bowl.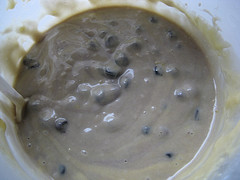 Step 3: Lightly toss blueberries in 1 tablespoon of flour to coat, and fold them gently into the batter. Pour the batter into your baking pan and bake for 50-60 minutes or until done. Stick a tooth pick in the loaf and if it comes up clean, it's done. While the loaf is baking cook 1/3 cup lemon juice and 1 tablespoon of sugar until sugar is dissolved. Set aside.
Step 4: When the loaf is done allow it to cool for 10-15 minutes, and place on a cooling rack. When the loaf is still warm pour the lemon-sugar mixture over it and allow it to soak in. Allow to fully cool.
Tags: cooking, recipes, food and drink, recipe, baking