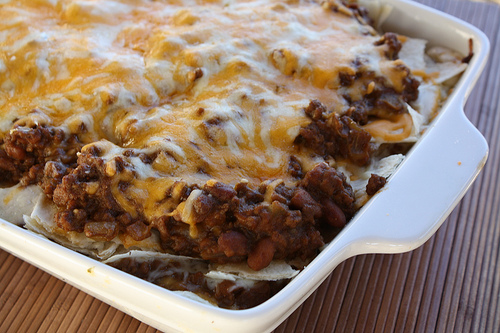 Burrito casserole is one of my favorite Mexican casserole dishes. It's called burrito casserole because it uses ingredients similar to that of a burrito. This was a big hit with my family and its something almost everyone is sure to enjoy. This casserole is basically a beef and refried bean mixture mixed with cheese, cream of mushrooms soup and torn flour tortillas. You can use either ground beef or ground turkey for this recipe. Even spice it up with a little hot sauce and you could add black olives, tomato and lettuce on top if you choose. This is very easy and delicious meal if you are looking for something quick to prepare. Enjoy.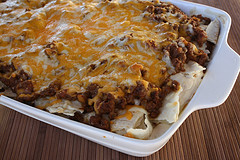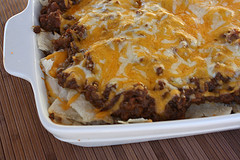 Ingredients:
1lb ground beef
½ medium yellow onion (chopped)
1 (1 ¼ ounce) package taco seasoning
6 large flour tortillas
1 (16 ounce) can refried beans
2-3 cups shredded taco cheese (or cheddar cheese)
1 ( 10 ¾ ounce) can cream of mushrooms soup
4 ounces sour cream
hot sauce (optional)
Cooking Instructions: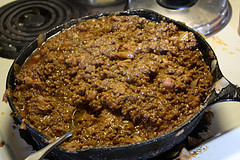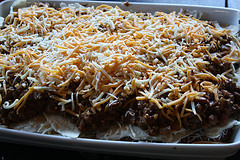 Step 1: In a large skillet brown ground beef and onion. Drain. Add taco seasoning and stir in refried beans.  In a separate bowl mix together cream of mushroom soup and sour cream.
Step 2: Spread ½ of the sour cream mixture onto the bottom of a casserole dish. Tear up 3 tortillas and spread them over the sour cream mixture. Put ½ of the meat and bean mixture on top of that. Add a layer of shredded cheese (add hot sauce is using). Repeat the layers.
Step 3: Sprinkle cheese over the top and place into the oven and bake uncovered at 350 degrees for 20-30 minutes.
(Makes 6 Servings)
If you enjoyed this article Subscribe to my RSS Feed.