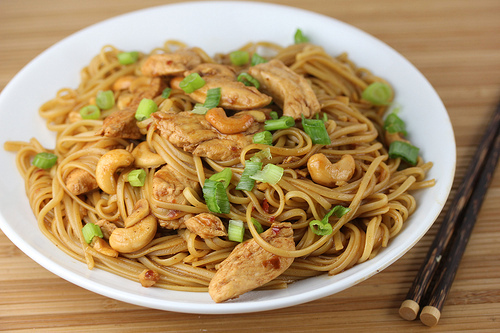 This delicious Asian inspired pasta dish combines linguini with cashew chicken. What I really like about this recipe is that everything goes perfectly together and it can be served as a delicious dinner for any night of the week. There is no need to serve rice or anything with this. However, egg rolls would make a great appetizer. The chicken in this recipe is stir-fried and then mixed with a sauce. The sauce uses Chinese ingredients such as soy sauce, hoisin sauce, and also red chili flakes and chili garlic sauce for the just right amount of spiciness. The red chili flakes and the chili garlic sauce can be adjusted to your taste. If you are looking for a great tasting Chinese pasta dish, give this one a try. Enjoy.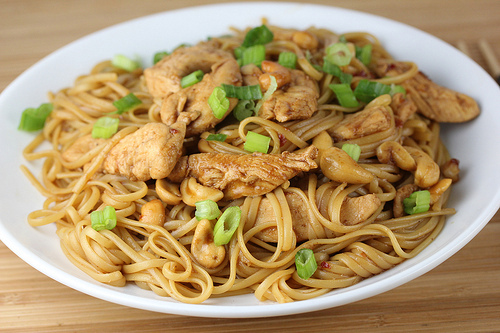 Ingredients:
4 boneless skinless chicken breasts (sliced into strips)
1 cup cashews
½ cup green onions (chopped)
1lb uncooked linguini pasta
2 tablespoons vegetable oil
Sauce-
½ cup hoisin sauce
¼ cup soy sauce
¼ cup sherry wine
1/8 cup red wine vinegar
2 tablespoons chili garlic sauce
¼ cup sugar
5 garlic cloves (minced)
½ teaspoon crushed red chili flakes
Cooking Instructions: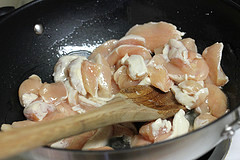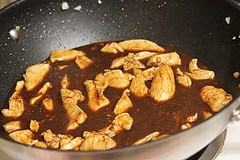 Step 1: Bring a large pot of lightly salted water to a boil. Add linguini and cook according to package directions. Drain and set aside.
Step 2: Meanwhile, in a small bowl combine hoisin sauce, sherry wine, red wine vinegar, chili garlic sauce, minced garlic, and crushed red chili flakes. Add in the sugar and whisk until well combined.
Step 3: Heat 2 tablespoons of oil in a wok or skillet over medium-high heat. Add sliced chicken and stir fry in batches until the chicken is fully cooked (the internal temperature has reached 165 degrees). Add more oil if needed between batches. Remove the chicken from the wok. Pour the sauce mixture into the wok and cook until it becomes bubbly and heated through. Add chicken to the wok, add cashews. Mix well and cook until heated through. Mix the chicken and sauce mixture with the cooked linguini. Add green onions and stir.
(Makes 4 Servings)
If you enjoyed this article Subscribe to my RSS Feed.