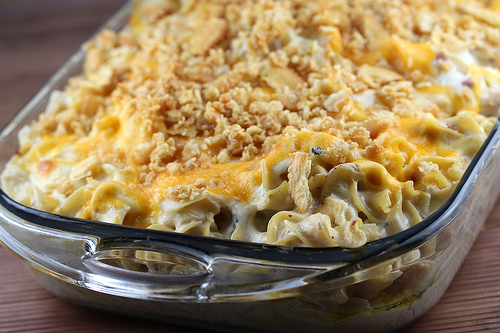 This chicken noodle casserole is yet another delicious casserole that I made recently. I never seem to get tired of casserole recipes. They are so easy to prepare and the variety of things you can turn into a casserole is nearly endless. This casserole combines cooked chicken, with egg noodles and a creamy sauce mixture. The sauce combines two different types of condensed soups; cream of mushroom and cream of chicken. Sour cream is also added into the mix. The casserole is then topped with shredded cheese and crushed buttery crackers. This is also a great way to use up left over chicken. This can be prepared for the Holidays or any night of the year. Enjoy.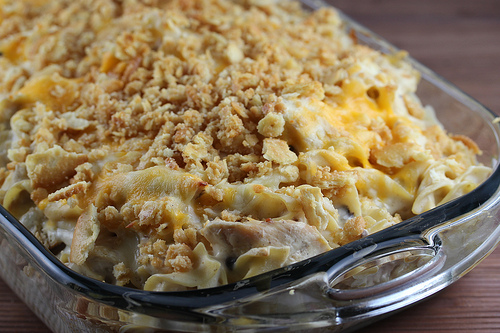 Ingredients:
4 boneless skinless chicken breast halves
2 tablespoons oil (for frying)
6 ounces egg noodles
1 (10.75 ounce) can condensed cream of mushroom soup
1 (10-75 ounce) can condensed cream of chicken soup
1 cup sour cream
salt and black pepper (to taste)
1-2 cups shredded Colby jack cheese
1 cup crumbled buttery round crackers
½ cup butter
Cooking Instructions: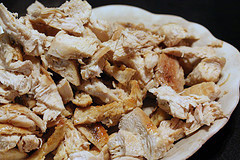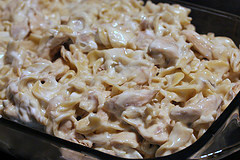 Step 1: Pre-heat the oven to 350 degrees. Add oil to a large skillet over medium-high heat. Add chicken breasts and cook, turning once until fully cooked (the internal temperature has reached 165 degrees) and golden brown on both sides. Remove from the pan and allow to cool. Cut chicken into small pieces. Set aside.
Step 2: Cook egg noodles according to package directions and drain. Set aside. In a large bowl mix together cream of mushroom soup, cream of chicken soup, and sour cream. Season with salt and pepper. Add egg noodles and chicken to the sauce mixture. Gently stir together. Place into a lightly greased 2 quart baking dish.
Step 3: Melt butter in a small sauce pan and remove from heat. Stir in crumbled crackers. Top the casserole with shredded Colby jack cheese and buttery crackers. Place into the oven and bake at 350 degrees for about 30 minutes, or until heated through and browned on top.
(Makes 4 Servings)
If you enjoyed this article Subscribe to my RSS Feed.