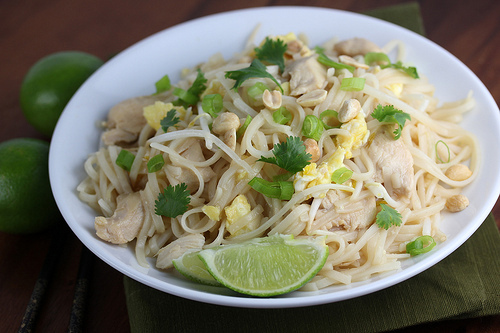 Chicken pad Thai is a dish that consists of rice noodles mixed with chicken, pad Thai sauce, eggs, bean sprouts and various other ingredients. A lot of pad Thai recipes call for the use of tamarind paste. Tamarind paste can be extremely hard to find depending on where you live but luckily, this recipe does not require it at all. The paid Thai sauce has really great flavor and uses ingredients such as chicken broth, rice vinegar, fish sauce, and a few others. This recipe does require a little bit of work to prepare. Most of the work that is involved is preparing the ingredients for cooking—once the ingredients are prepared everything cooks rather quickly. This recipe makes a delicious and unique dinner. Enjoy.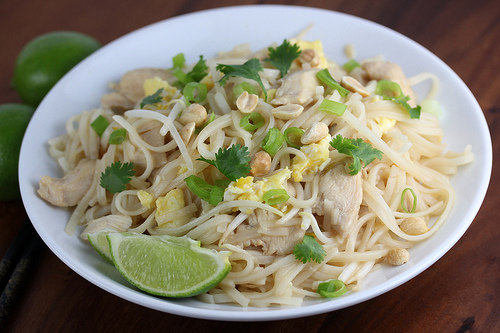 Ingredients:
9 ounces pad Thai rice noodles
3/4lbs boneless skinless chicken breasts (cut into small pieces)
1 ½ tablespoons soy sauce
4 garlic cloves (minced)
1 fresh green chili pepper (sliced)
1 thumb-sized piece of ginger (grated)
4 green onions (sliced)
1 egg
2-3 cups beans sprouts
1/3 cup dry roasted peanuts (chopped)
1 fresh lime (sliced into wedges)
2 tablespoons vegetable oil
Pad Thai Sauce—
1/3 cup chicken stock
3 tablespoons rice vinegar (or white vinegar)
1 tablespoon lime juice
4 tablespoons brown sugar
2 tablespoons fish sauce
1 tablespoon soy sauce
1/8 teaspoon white pepper
Cooking Instructions: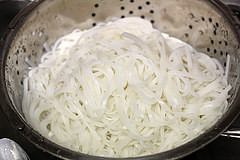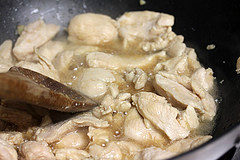 Step 1: Place the prepared chicken into a medium bowl and toss with 1 ½ tablespoons of soy sauce. Set aside. In a small bowl combine chicken stock, rice vinegar, lime juice, brown sugar, fish sauce, soy sauce, and white pepper. Set aside.
Step 2: Bring a large pot of water to a boil. Add the rice noodles and turn off the heat. Allow the noodles to soak for about 6 minutes or until soft enough to bend easily but still firm and undercooked. Drain and rinse the noodles briefly with cold water.
Step 3: Heat a wok or large frying pan over medium-high heat. Add the vegetable oil and swirl around. Add the garlic, chili pepper, ginger, and half of the green onion. Stir-fry for 1 minute. Add the chicken and stir-fry for 3-4 minutes or until fully cooked (the internal temperature has reached 165 degrees).
Step 4: Push the ingredients to the side in the wok and crack an egg into the center of the pan. Stir quickly to scramble the egg and then combine it with the other ingredients. Add the prepare noodles and 3-4 tablespoons of the pad Thai sauce. Using two utensils lift and turn the noodles to stir-fry and combine with the other ingredients. Using this method, continue cooking while adding more sauce every minute or two, until all of the sauce has been added and  the noodles are cooked through and a little bit sticky (about 8-10 minutes). Fold in the bean sprouts. Remove from heat. Garnish with lime wedges, remaining green onion, cilantro, and peanuts.
(Makes 4 Servings)
If you enjoyed this article Subscribe to my RSS Feed.