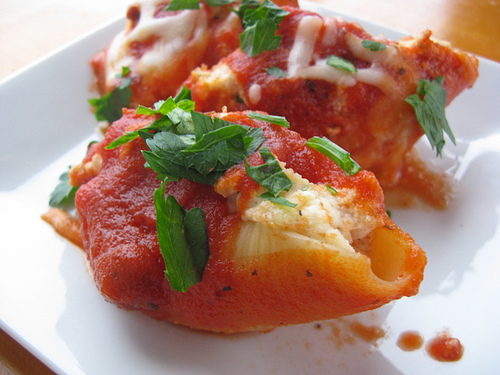 I love stuffed shells… From Italian and taco stuffed shells all the way to chicken stuffed shells. Chicken stuffed shells are a great way to make good use of left over chicken. I have seen many different recipes all using different methods but I decided to try this one. I prefer Italian flavors over cream of mushrooms soup and such. Even though I am not a big fan of ricotta cheese a lot of it goes into this recipe. Not only does ricotta go into this recipe but mozzarella and parmesan cheeses go into it as well. I really like the fresh garlic in the stuffing mixture; it adds a great amount of flavor. This recipe is very easy and all of the stuffing ingredients can be mixed in a food processor to save time. Serve with garlic bread. Enjoy.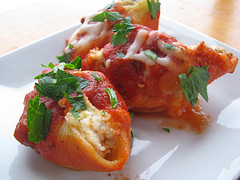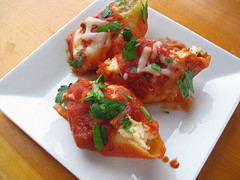 Ingredients:
1 box jumbo uncooked pasta shells
6 garlic cloves (minced)
2 chicken breasts (cooked and shredded)
1 (30 oz) container ricotta cheese
1/3 cup Italian breadcrumbs
1 ½ teaspoon salt
½ teaspoon pepper
1 ½ teaspoons dried parsley
6 basil leaves (torn)
1/3 cup half and half
28 oz pasta sauce
¼ cup parmesan cheese
1 cup mozzarella cheese
Cooking Instructions: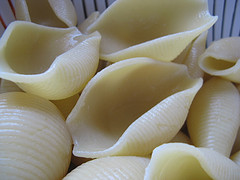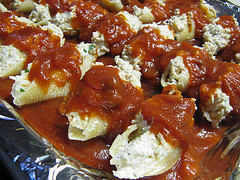 Step 1: Pre-heat the oven to 375 degrees. Cook pasta shells according to package directions. Rinse with cold water, separate and set aside.
Step 2: Combine garlic, chicken, ricotta cheese, bread crumbs, half and half, salt, pepper, parsley, and basil and parmesan cheese in a food processor. Process until combined. If you don't have a food processor, mix well with a spoon.
Step 3: Pour half of the pasta sauce into the bottom of a large baking dish. Stuff shells 1 by 1 with the chicken/cheese mixture and place in rows into the baking dish on top of the sauce. Top the shells with shredded mozzarella and pour the over half of the sauce over the top of shells. Bake in the oven at 375 degrees for 20 minutes.
(Makes 4 servings)


If you enjoyed this article Subscribe to my RSS Feed.