Blueberry Cheesecake Recipe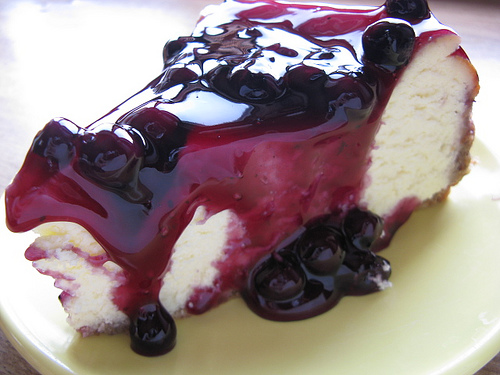 Okay, so it's not really a blueberry cheesecake but I didn't know what else to call it J. It does have some delicious blueberry pie filling on it though. This is the cheesecake that I made this year for Thanksgiving. After all, what could be better for Thanksgiving dessert than a cheesecake? It was so good and it absolutely got devoured in no time. The highlight of this cheesecake is the crust. The crust is a combination of vanilla wafers and 3 different types of nuts – almonds, walnuts and pecans. A great way to make the crush is to crush all of the ingredients with a rolling pin. I feel the addition of lemon juice in the filling makes a huge difference in the overall flavor, and a little vanilla doesn't hurt either. If you are looking for a delicious cheesecake recipe give this one a try. You don't be disappointed. Enjoy.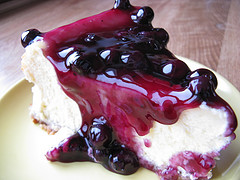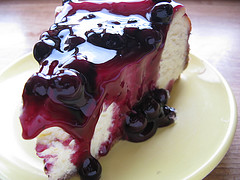 Ingredients:
Crust-
¼ cup pecans (finely chopped)
¼ almonds (finely chopped)
¼ cup walnuts (finely chopped)
¾ cup vanilla wafers (finely chopped)
2 tablespoons melted butter
Filling-
1 ½ lbs cream cheese
1 1/3 cups sugar
5 large eggs
16 ounces sour cream
¼ cup flour
2 teaspoons vanilla extract
2 teaspoons lemon juice
1 can blueberry pie filling

Cooking Instructions: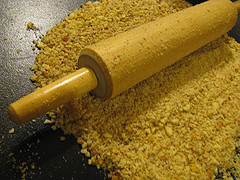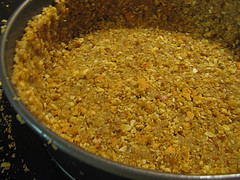 Step 1: Pre-heat the oven to 325 degrees. Mix all crust ingredients together and press into the bottom and 1 ½" up the sides of a 9" spring form pan. Set aside.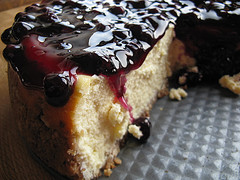 Step 2: In a large mixing bowl beat cream cheese until it's light and fluffy. Add sugar (a little at a time) and beat until creamy. Add one egg at a time (beating after each one). Add flour, vanilla extract and lemon juice. Mix well. Add sour cream and beat until smooth.
Step 3: Pour cream cheese mixture over the crust. Place into the oven on the middle rack and back at 325 degrees for 1 hour and 15 minutes. When time is up prop open the oven door and let cheesecake sit in the oven for 1 hour. Remove and allow cheesecake to cool and refrigerate overnight. Top with blueberry pie filling.
(makes 8 servings)