Chinese Spicy Chicken Recipe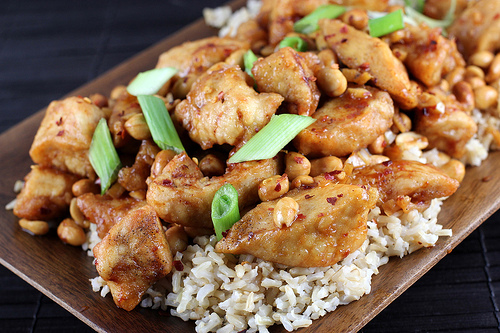 This is just like the Spicy chicken that can be found at your favorite Chinese restaurant. It is the latest recipe to be added to my collection. This Chinese dish is sure to please fans of both sweet and spicy food. The chicken gets a nice crispiness from a light coating of cornstarch and the sauce is one of the best around. The sauce is soy sauce, rice wine, brown sugar, and rice wine vinegar mixed. Rice wine and rice wine vinegar is not the same thing. If you cannot find rice wine, any white wine will work in its place. This recipe calls for deep frying but you can fry in the pan instead if you choose. Serve with white rice. If you want extra sauce for the rice, you can double or triple the sauce ingredients.  Enjoy.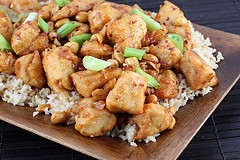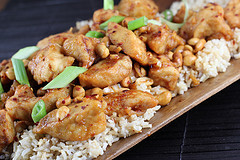 Ingredients:
1lb boneless skinless chicken breasts (cut into 1 inch chunks)
½ cup cornstarch (for dusting)
2 tablespoons soy sauce
2 tablespoons rice wine (or any white wine)
2 teaspoons rice wine vinegar
2 teaspoons brown sugar
1 tablespoon garlic (minced)
2 teaspoons ginger (minced)
1/2 teaspoon red pepper flakes (or more, to taste)
¼ dry cup roasted peanuts
4 green onions (sliced)
Oil (for frying)
Cooking Instructions: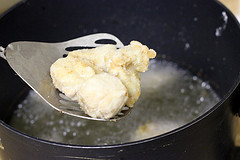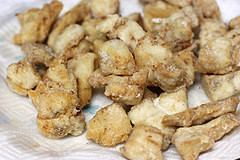 Step 1: Heat the oil in a deep fryer to 375 degrees. Lightly toss chicken pieces of cornstarch until evenly coated.
Step 2: In a small bowl combine soy sauce, rice wine, rice wine vinegar, and brown sugar. Set aside. Deep fry chicken in patches at 375 degrees until golden brown and fully cooked (about 5-7 minutes). Drain on paper towels.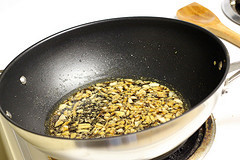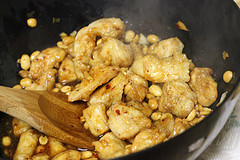 Step 3: While chicken is frying. Heat a tablespoon of oil in a wok or sauce pan to medium-high heat. Add garlic and ginger and red pepper flakes. Stir fry for 15 seconds. Add the sauce mixture. Bring to a boil and boil for 5 minutes.
Step 4: In a serving bowl mix cooked chicken pieces with the sauce. Add green onions and peanuts. Mix well and serve.
(Makes 2 Servings)