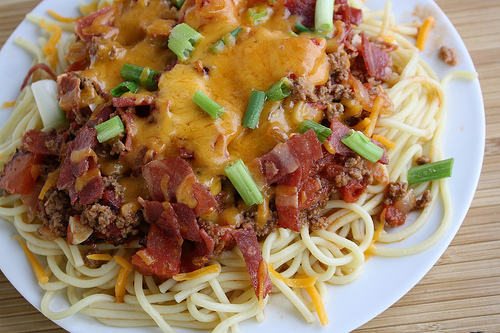 If you're looking for a change from your normal spaghetti, Cowboy spaghetti could be just what you're looking for. I had not heard of this until recently but I decided to give it a try and it turned out great. This recipe comes from the Food Network. Cowboy spaghetti adds a nice smokey flavor to your normal spaghetti. It gets a lot of its flavor from fire roasted tomatoes, Worcestershire sauce, hot sauce and bacon. If you want to up the heat a little bit just add more hot sauce. This delicious spaghetti is topped with green onions and shredded cheddar cheese.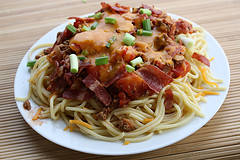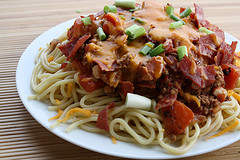 Ingredients:
1 lb spaghetti noodles
1 tablespoon olive oil
3 slices smoky bacon (chopped)
1lb ground beef
1 medium onion
4 garlic cloves (minced)
Ground black pepper (to taste)
2 teaspoons hot sauce
1 tablespoon Worcestershire sauce
½ cup beer
1 (14 ounce) can fired roasted diced tomatoes
1 (8 ounce) can tomato sauce
shredded cheddar cheese
green onions (chopped)
Cooking Instructions: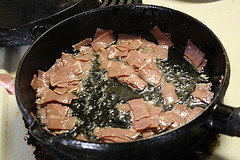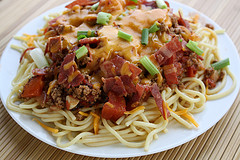 Step 1: Cook spaghetti noodles according to package directions. Drain and set aside. This can be done while you're making the sauce. Heat a large deep skillet to medium-high heat. Add olive oil and add bacon. Fry bacon until crisp, remove with a slotted spoon and drain on paper towels.
Step 2: In the same skillet add ground beef and chop up with a spatula or metal spoon while cooking. Cook until the beef is browned. Add onions and garlic, stir into the meat. Season with salt, pepper, hot sauce and Worcestershire sauce. Add the beer to the pan and stir in. Cook for 5-6 minutes and stir in tomatoes and tomato sauce. Cook for an additional 2-3 minutes.
Step 3: Add spaghetti noodles to the meat and sauce and combine. Top with shredded cheddar cheese and green onions.
(Makes 4 Servings)
If you enjoyed this article Subscribe to my RSS Feed.