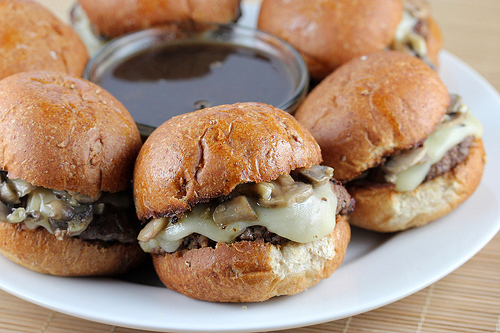 These French dip burgers make a delicious dinner or they can also be made into sliders and served as an appetizer. These burgers are topped with Swiss cheese and sautéed mushrooms. The mushrooms are sautéed in garlic and butter. There is no need for a slow cooker in this recipe. The Au Jus is made in the pan using water, vegetables, and better than beef bouillon. You can either cook the burgers on the stove top or you can grill them, it's your choice. Serve with French fries. Enjoy.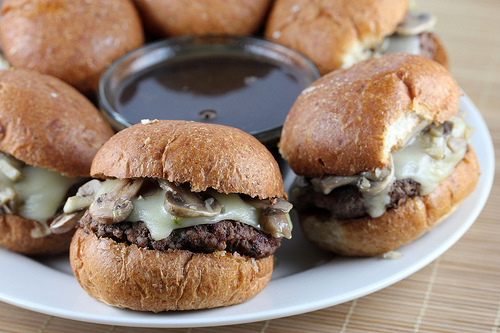 Ingredients:
2lbs ground beef
salt and pepper (to taste)
4 slices Swiss cheese (each slice cut into 4 squares)
1 package fresh sliced mushrooms
1 tablespoon garlic (minced)
2 tablespoons butter
12 slider buns
butter (for spreading)
Au Jus-
2 cups water
1 tablespoon better than bouillon beef base
2 teaspoons better than bouillon beef base
1/2 stalk celery
1/2 small onion
1 pinch thyme
salt and pepper (to taste)


Cooking Instructions: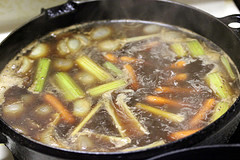 Step 1: To make the Au Jus- in a saucepan combine water, beef base, celery, onion, thyme, salt and pepper. Simmer until vegetables are tender. Strain and place into small bowls for serving.
Step 2: Shape ground beef into 12 patties and season on both sides with salt and pepper. Heat a large skillet to medium high heat. Add the burger patties and cook, turning once, until fully cooked (the internal temperature has reached 160 degrees). During the last few minutes of cooking top each patty with 2 of the sliced Swiss cheese squares.
Step 3: While burgers are cooking melt the butter in a sauté pan over medium high heat. Add garlic and mushrooms and sauté for 15-20 minutes or until the mushrooms are tender.
Step 4: Split the slider buns in half and butter the cut side of each half. Place face down in a fry pan over medium heat and cook until browned on the bottom. Place each hamburger patty onto a slider bun, top with sautéed mushrooms, and place on the top half of the bun. Serve with Au Jus.
(Makes 6 Servings)
If you enjoyed this article Subscribe to my RSS Feed.