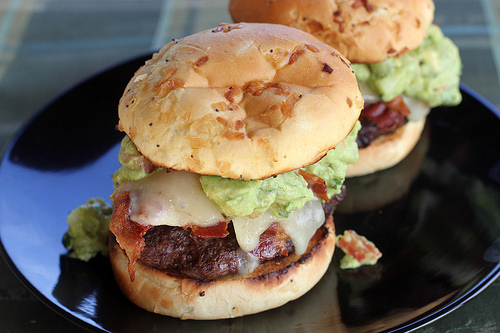 It's that time of year again, the time for summer cookouts. With the 4
th
of July approaching you are probably looking for something to make. This year you can make something different with these guacamole burgers. These burgers are topped with bacon, pepper jack cheese, and homemade guacamole. The key to good burgers is not overcooking them and making sure that they are seasoned well. For good seasoning I find a few twists of a salt and pepper grinder is the best. The guacamole and bacon can be prepared in advance. For the guacamole you can either use the recipe here or make your own. Enjoy.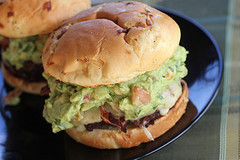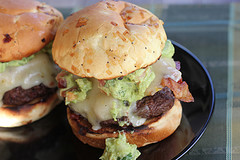 Guacamole Burgers
Prep time: 30 minutes Cook time: 15 minutes
Ingredients:
2lbs ground hamburger
salt and pepper (to taste)
8 slices bacon (cooked)
4 slices pepper jack cheese
4 hamburger buns
Guacamole-
3 ripe avocados (peeled and pitted)
The juice of 1 lime
1 teaspoon salt
½ cup onion (diced)
3 tablespoons fresh cilantro (chopped)
2 roma tomatoes (diced)
1 teaspoon fresh garlic (minced)
1 pinch cayenne pepper
Cooking Instructions: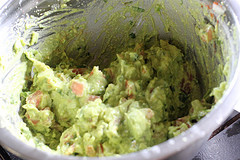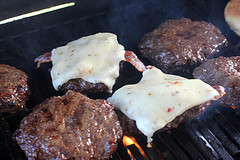 Step 1: To make guacamole- in a medium bowl mash avocados together with the lime juice. Add salt. Stir in cilantro, tomatoes and garlic. Mix in cayenne pepper. Cover and refrigerate until needed.
Step 2: Shape the ground burger into 4 patties. Season on both sides with freshly ground salt and black pepper. Lightly grease the grates of your grill and heat the grill to medium high heat. Grill hamburger patties until they have reached an internal temperature of 160 degrees. Within the last few minutes of cooking top patties with 2 slices of bacon and a slice of pepper jack cheese.
Step 3: Split the hamburger buns and lightly toast the halves on the grill. Remove from the grill and set aside. Place a burger patty on each bun. Top with guacamole and the top half of the bun.
Yield: (4 Servings)
If you enjoyed this article Subscribe to my RSS Feed.