Chinese Beef with Mushrooms Recipe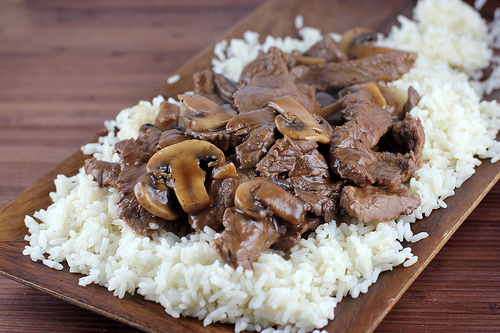 Beef with mushrooms is already a delicious combination to begin with but when you add Chinese flavors into the mix, it becomes even better. The best part about this recipe is that no deep fryer is needed; everything can be done in a fry pan or wok. It is also very easy to prepare for those of you who are just beginning to cook Chinese cuisine. The marinade which combines flavors such as soy sauce and oyster sauce is also used as the sauce for this recipe. If you want to add additional vegetables into the stir fry such as onion and broccoli, that would be great as well. As always, this recipe goes great served over white rice. Enjoy.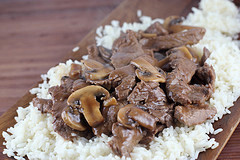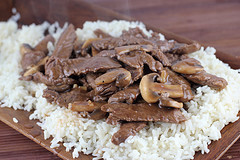 Chinese Beef with Mushrooms
Prep time: 20 minutes Cook time: 15 minutes
Ingredients:
1 ½ lbs flank steak (sliced into thin strips)
4 garlic cloves (finely chopped)
4 tablespoons oyster sauce
4 tablespoons soy sauce
2 teaspoons sugar
1 teaspoon salt
½ teaspoon ground black pepper
4 teaspoons cornstarch
1 cup water
2 tablespoons oil
1 cup fresh mushrooms (sliced)
Cooking Instructions: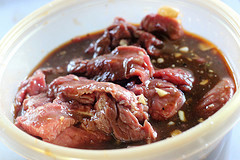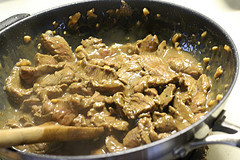 Step 1: In a large bowl combine garlic, oyster sauce, soy sauce, sugar, salt, pepper, water, and cornstarch. Mix well. Add flank steak and marinade for 30 minutes.
Step 2: Heat a wok or fry pan to medium high heat. Add oil. Remove steak slices from the marinade with a slotted spoon (reserving the marinade) and place into the pan and stir fry until the steak is fully cooked (about 5 minutes). Remove from the pan and set aside.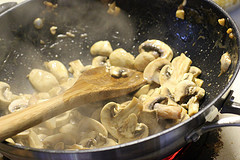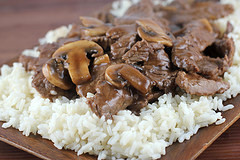 Step 3: Add a little more oil to the wok if necessary and add mushroom slices. Stir fry mushrooms for 3 minutes. Add the marinade liquid to the wok, bring to a boil. Reduce heat and simmer for 30 seconds. Return steak to the pan and simmer until heated through.
Yield: (4 Servings)