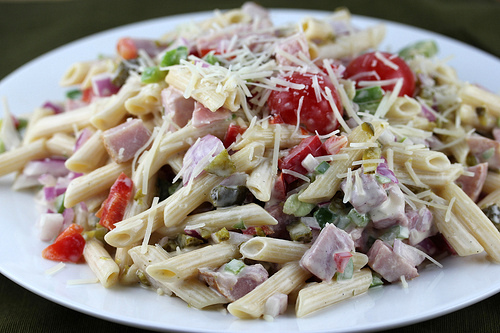 This ham pasta salad is a great addition to any summer menu. It is perfect for cookouts and parties, and makes a great side dish to go with grilled burgers, chicken, steak, or pork. This pasta salad is loaded with delicious ingredients such as ham, bell pepper, red onion, sweet pickles, and cherry tomatoes. The sauce has a really unique and delicious flavor; a lot of the flavor comes from the pickle juice and beef bouillon.  This recipe does take a little work because you will need to chop a lot of the ingredients, but it is well worth it. If you want the best flavor, you should allow the salad to chill overnight in the refrigerator, but you can also serve it immediately if you choose. This is another perfect summer pasta salad. Enjoy.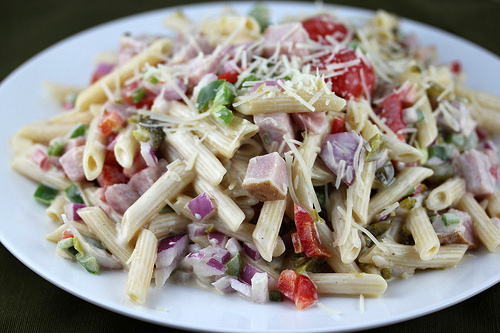 Ingredients:
8 ounces penne pasta
1lb cooked ham (cubed)
1 large red bell pepper (chopped)
1 large green bell pepper (chopped)
1 large red onion (chopped)
15 small sweet pickles (chopped, juice reserved)
1 cup cherry tomatoes (halved)
1 cup mayonnaise
½ cup sour cream
2 ½ teaspoons beef bouillon granules
1 tablespoon white vinegar
½ teaspoon salt
¼ teaspoon ground black pepper
2 garlic cloves (minced)
Cooking Instructions: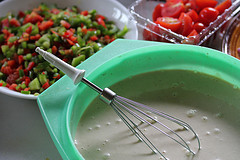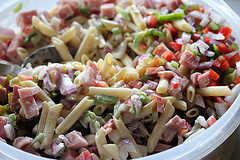 Step 1: Bring a large pot of salted water to a boil. Add penne pasta and cook for 8 to 10 minutes or until al dente, drain and set aside.
Step 2: In a large bowl combine the drained pasta, ham, red bell pepper, green bell pepper, red onion, pickles, and tomatoes.
Step 3: In a small bowl, whisk together the mayonnaise, sour cream, beef bouillon granules, vinegar, salt, black pepper, garlic, and ½ cup of the reserved pickle juice. Fold the mayonnaise mixture into the salad and toss gently until evenly coated. Chill overnight to allow the flavors to blend.
(Makes 6 Servings)
If you enjoyed this article Subscribe to my RSS Feed.