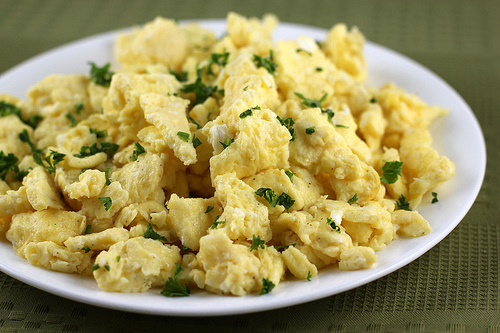 A good breakfast can never be complete without scrambled eggs. Making scrambled eggs might seem rather obvious to some, but this is a slightly different take on making scrambled eggs. If you are wondering how to make delicious scrambled eggs, you will want to give this a try. By adding a few simple ingredients such a milk and baking powder, your scrambled eggs can turn out fluffy and nearly perfect. I recommend using a non-stick skillet when making scrambled eggs. Adding the shredded cheese is totally optional. Enjoy.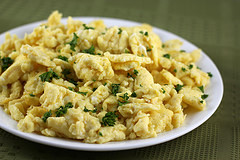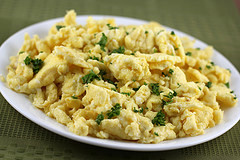 Ingredients:
2 teaspoons butter
4 large eggs
2 tablespoons milk
1/8 teaspoon baking powder
½ teaspoon salt
ground black pepper (to taste)
½ cup grated cheddar cheese (optional)
Cooking Instructions: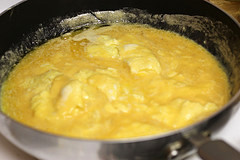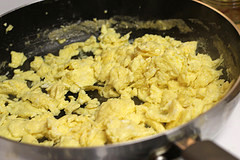 Step 1: In a large bowl whisk the eggs with milk, baking powder, salt, and black pepper. Whisk until well combined. Let stand at room temperature for at least 5 minutes.
Step 2: Heat a large non-stick skillet over medium high heat. Add butter and melt until sizzling. Whisk eggs again briefly then mix in the cheddar cheese (if using). Pour the egg mixture into the hot skillet. Stir constantly with a spatula until the eggs have reached desired consistency.
Step 3: Remove from the pan and plate.
(Makes 2 Servings)
If you enjoyed this article Subscribe to my RSS Feed.