Hunan Chicken Recipe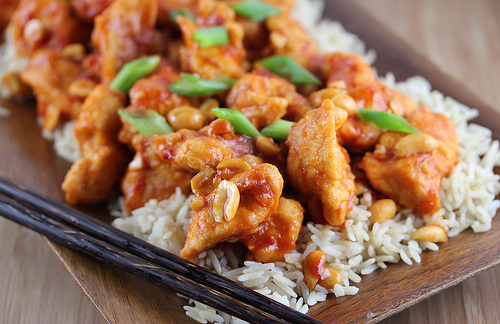 Hunan chicken is a Chinese dish that is sweet and spicy. This dish consists of deep fried chicken pieces coated with a sweet and spicy sauce. Peanuts and green onions are added to the mix for even more flavor. The sauce is tomato based and uses ingredients such a tomato paste, chicken broth, soy sauce, and sugar. Most of the spice comes from chili and garlic sauce, you can add more if you like your food extremely spicy. You could also add red pepper flakes. If you don't have a deep fryer, the chicken can be cooked in a wok or deep skillet as well. Just add a couple inches of oil and fry. Serve with rice. Enjoy.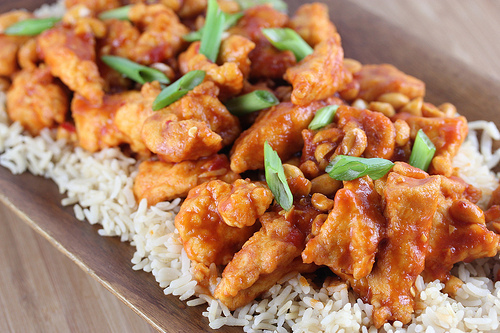 Ingredients:
2 boneless skinless chicken breasts (cut into 1" chunks)
1 egg
¼ cup cornstarch
Sauce-
¼ cup chicken broth
1 tablespoon chili garlic sauce (more or less to taste)
1 tablespoon tomato paste
2 teaspoons soy sauce
1 teaspoon sugar
2 garlic cloves (minced)
½ cup green onions (sliced)
½ cup roasted peanuts
Oil (for frying)
Cooking Instructions: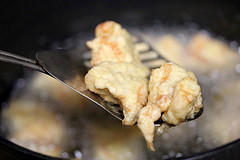 Step 1: In a medium bowl whisk together egg and cornstarch until smooth. Add chicken pieces tossing to coat. Let sit for 10 minutes. Meanwhile, in another medium bowl combine chicken broth, chili garlic sauce, tomato paste, soy sauce, and sugar. Mix well and set aside.
Step 2: Heat a deep fryer to 375 degrees. Deep fry chicken in batches until fully cooked (the internal temperature has reached 165 degrees) and golden brown. Drain on paper towels.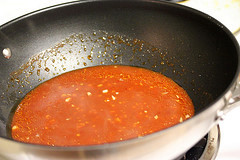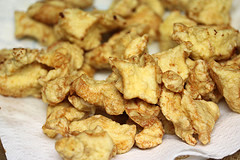 Step 3: Add a tablespoon of oil to a wok and heat to medium high heat. Add garlic and stir-fry for 10 seconds. Pour in the sauce and let it simmer for 5 minutes. Add the peanuts to the sauce. Place the deep fried chicken pieces into a large serving bowl. Pour in the sauce and toss to coat. Top with green onions.
(Makes 2 Servings)