Jack Daniel's BBQ Chicken Wings Recipe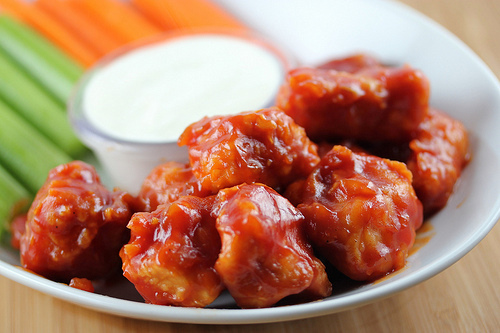 Jack Daniel's BBQ chicken wings make a delicious appetizer. This recipe uses boneless chicken wings, which are nothing more than cut up chicken breasts. If you want to use bone-in chicken wings you may do so as well. The real highlight of this recipe is the Jack Daniel's BBQ sauce. Jack Daniel's whisky gives this BBQ sauce an amazing flavor. The BBQ sauce can be made ahead of time and put into the refrigerator to allow the flavors to blend. Making the BBQ sauce in advance will also save time when you are ready to cook the chicken wings. The boneless wings are double dipped in a seasoned flour mixture and then fried in the deep fryer. These are perfect for football season. Enjoy.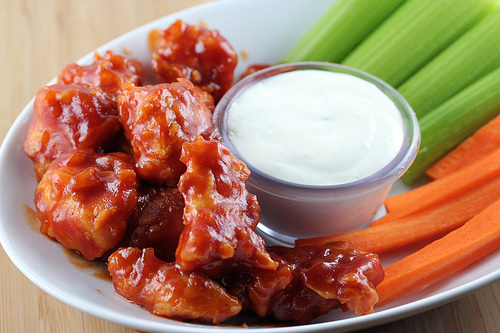 Ingredients:
3 boneless skinless chicken breasts (cut into 1" chunks)
Oil (for deep frying)
1 cup all purpose flour
2 teaspoons salt
½ teaspoon ground black pepper
½ teaspoon cayenne pepper
¼ teaspoon garlic powder
½ teaspoon paprika
1 egg
1 cup milk
Jack Daniel's BBQ Sauce-
1 small onion (diced)
4 garlic cloves (minced)
½ cup Jack Daniel's
2 cups ketchup
¼ cup vinegar
2 tablespoons tomato paste
¼ cup Worcestershire sauce
1/3 cup brown sugar
2 tablespoons liquid smoke
½ teaspoon pepper
½ teaspoon salt
Cooking Instructions: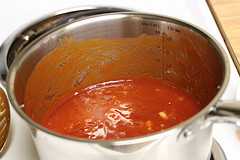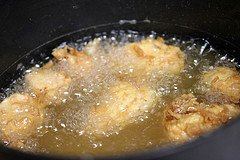 Step 1: In a medium saucepan combine onion, garlic, and Jack Daniel's. Bring to a boil. Reduce heat and simmer for about 7 minutes or until the onion is translucent. Add ketchup, vinegar, tomato paste, Worcestershire sauce, brown sugar, liquid smoke, pepper, and salt. Mix well and simmer for 20 minutes. Puree in a food processor or blender. At this point the sauce can be refrigerated for at least 24 hours. You can also use it right away on the wings.
Step 2: Heat oil in a deep-fryer to 375 degrees. In a large bowl combine flour, salt, black pepper, cayenne pepper, garlic powder, and paprika. In a small bowl whisk together egg and milk. Dip each piece of chicken in the egg mixture, and then roll in the flour mixture. Repeat so that each piece of chicken is double coated. Refrigerate the breaded chicken for 20 minutes.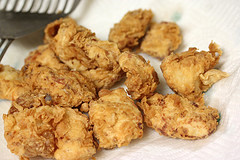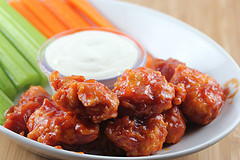 Step 3: Fry chicken in the hot oil in batches until the outside is nicely browned and the juices run clear (about 5 minutes per batch). The internal temperature of the chicken should be 165 degrees. Drain on paper towels. Repeat until all of the chicken is gone.
Step 4: Mix cooked chicken pieces with the BBQ sauce and serve.
(Makes 4 Servings)