Pulled Pork Sliders Recipe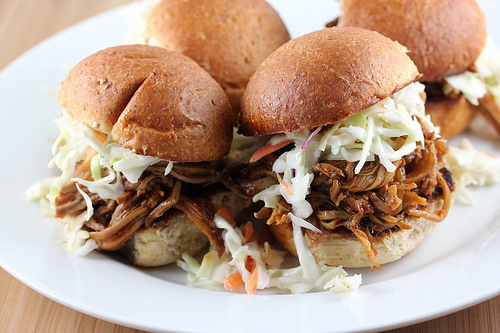 These slow cooked pulled pork sliders make a great appetizer for game day or any gathering. The pork roast is mixed with BBQ sauce and various other ingredients and then cooked in the slow cooker for 5-6 hours. The pulled pork is then put onto slider buns and topped with coleslaw. The coleslaw recipe is very simple and only uses a few ingredients. If you want to save time, you can just buy a bag of shredded cabbage and carrot mix from the store. This recipe will make enough to feed a lot of people. You should be able to get at least 20 sliders out of this recipe. If you want, you can cut the recipe down a bit by getting a smaller pork roast. This is another great recipe to prepare for the Super Bowl. Enjoy.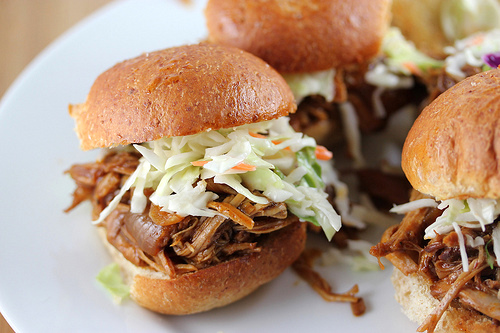 Ingredients:
1 teaspoon vegetable oil
1 (4 pound) pork shoulder roast
1 cup barbeque sauce
½ cup apple cider vinegar
½ cup chicken broth
1/4 cup light brown sugar
1 tablespoon prepared yellow mustard
1 tablespoon Worcestershire sauce
1 tablespoon chili powder
1 extra large onion (chopped)
2 large garlic cloves (crushed)
1 ½ teaspoons dried thyme
20 slider buns (split)
butter (as needed)
Coleslaw-
1 small head cabbage (shredded)
3 medium carrots (shredded)
1 cup mayonnaise
1/3 cup sugar
¼ cup apple cider vinegar
Cooking Instructions: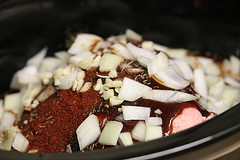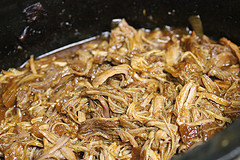 Step 1: Pour the vegetable oil into the bottom of the slow cooker. Put the pork roast into the slow cooker and pour in the barbeque sauce, apple cider vinegar, and chicken broth. Stir in brown sugar, mustard, Worcestershire sauce, chili powder, onion, garlic, and thyme. Cover and cook on high for 5-6 hours or until the roast shreds easily with a fork.
Step 2: Take the roast out of the slow cooker, and shred using two forks. Place the shredded meat back into the slow cooker and toss with the juices.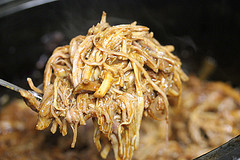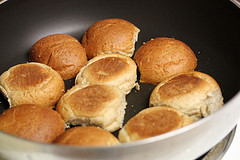 Step 3: To make the coleslaw- In a large bowl combine shredded cabbage and carrots. In a small bowl combine mayonnaise, sugar, and vinegar. Mix well, and pour over the cabbage mixture and toss to coat.
Step 4: Heat a large skillet to medium heat. Spread the inside of both halves of the sliders buns with butter. Place buttered side down into the skillet and toast until golden brown. Spoon pulled pork onto the bottom half of a slider bun, spoon on coleslaw with a slotted spoon, and place on the top half of the bun.
(Makes 8 Servings)