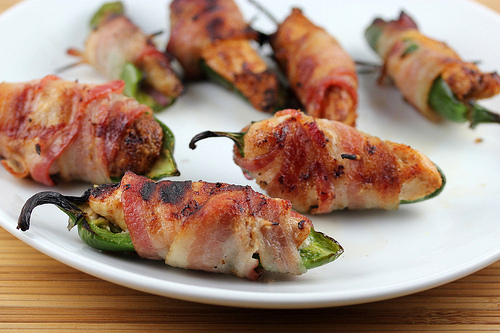 Another one of my favorite appetizers to prepare in the oven or on the grill for football season are these jalapeno chicken bites. These appetizers consist of jalapeno peppers stuffed with red onion and seasoned chicken strips that are wrapped in bacon. If you would prefer you can wrap the stuffed peppers with ham or prosciutto instead of the bacon. When you are cutting the chicken pieces you will have to guess the size to cut them based on how big your jalapeno peppers are. It is okay if they are a little too big; just tuck in whatever over laps. There are a lot of different ingredients you could add to this recipe based on your taste. A good idea would be to add a small slice of cheese or add some cream cheese into the peppers. You can serve these wrapped peppers with blue cheese or ranch dressing if you would like. Enjoy.


Ingredients:
1lb boneless skinless chicken breasts
1 tablespoon garlic powder
1 tablespoon onion powder
1 tablespoon ground black pepper
2 teaspoons seasoning salt
1 teaspoon paprika
1 small purple onion (cut into strips)
15 jalapeno peppers (halved and seeded)
1lb thin sliced bacon (or ham, or prosciutto)
blue cheese salad dressing (optional)
Cooking Instructions: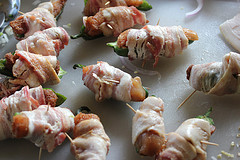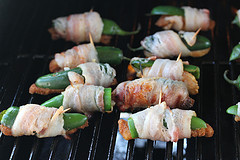 Step 1: Preheat the oven to 350 degrees. Cut the chicken breasts into small strips that will fit the size of your pepper (the size is going to depend on how big your peppers are, so use your best judgment. If they are a little bigger than the pepper, simply tuck in whatever over laps).
Step 2: In a large sealable plastic bag, combine garlic powder, onion powder, ground black pepper, seasoned salt, and paprika. Add chicken strips and shake to coat. Place an onion strip and a chicken strip into each jalapeno half. Wrap each pepper with a slice of bacon, covering the entire pepper. Secure the bacon onto the pepper using a toothpick.  Place the wrapped pepper onto a lightly greased baking sheet. Repeat until all of the peppers are stuffed and wrapped.
Step 3: Place the baking sheet into the oven and bake the peppers at 350 degrees for 20-25 minutes or until the bacon is crispy and the chicken is fully cooked (the internal temperature has reached 165 degrees). These can also be grilled, by lightly spraying the grill grates and heating the grill to medium high heat.  Place the peppers onto the grill and then grill the peppers for 20-25 minutes until the bacon is crispy and the chicken is fully cooked (the internal temperature has reached 165 degrees).
Step 4: Serve with blue cheese or ranch dressing if desired.
(Makes 30 Peppers)
If you enjoyed this article Subscribe to my RSS Feed.