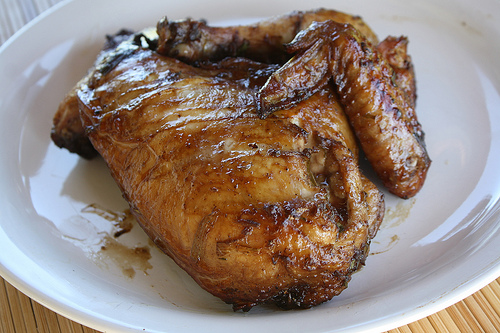 Jerk chicken originally comes from Jamaica. If you are not familiar with it, it is basically a marinade for chicken or pork. It can also be used for other types of meats as well such as fish and beef. This mixture is a combination of tangy, hot and sweet flavors. The marinade is mixed in a blender to make things very easy. Some of the ingredients in the marinade include soy sauce, vinegar, green onions, jalapeño pepper and various seasonings. If you don't want to use boneless skinless chicken breasts, any type of chicken would work. I used a whole cut up chicken. This is another summer grilling recipe and is perfect for outdoor cookouts. Enjoy.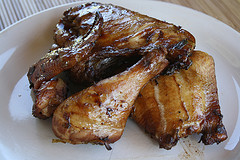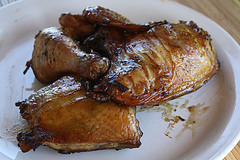 Ingredients:
1 1/2lbs boneless skinless chicken breasts
6 green onions (chopped)
1 onion (chopped)
1 jalapeño pepper (seeded and minced)
¾ cup soy sauce
½ cup white vinegar
¼ cup vegetable oil
2 tablespoons brown sugar
1 tablespoons fresh thyme (chopped)
½ teaspoon ground cloves
½ teaspoon ground nutmeg
½ teaspoon ground allspice
Cooking Instructions: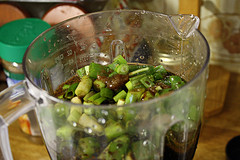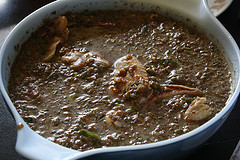 Step 1: In a food processor combine green onions, onion, jalapeño pepper, soy sauce, vinegar, vegetable oil, brown sugar, thyme, cloves, nutmeg and all spice. Blend for 15 seconds.
Step 2: Place the chicken in a large bowl or sealable bag. Pour the marinade over the chicken. Allow to marinate for at least 4 hours (or overnight for maximum flavor).
Step 3: Lightly oil grill grates. Pre-heat the grill to high heat. Cook chicken until the internal temperature has reached 165 degrees.
(Makes 4 Servings)
If you enjoyed this article Subscribe to my RSS Feed.