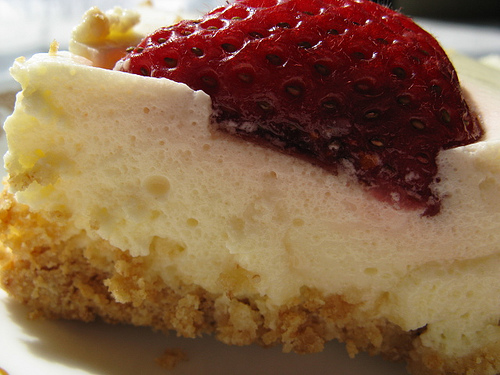 I know it's a little late, but I'm just getting around to posting the dessert I made for Easter this year. As a last minute decision I decided to go with no bake lemon cheesecake squares, and the results turned out pretty good. I just wish I could find some decent fresh strawberries around here this time of year. This recipe is great if you're looking for something light and refreshing – it would be great in the summertime!  This is a no bake cheesecake recipe so after only about a half hour it will be in the fridge. If you can find good ones, fresh strawberries taste just amazing on top of the cheesecake. Let me know what you think.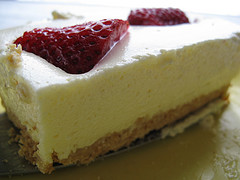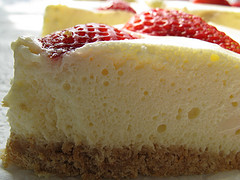 Ingredients:
Crust-
2 cups graham cracker crumbs
½ cup butter (melted)
¼ cup sugar
Filling-
¾ cup sugar
8 ounces softened cream cheese (softened)
1 (3 oz) package lemon jello
¾ cup water (boiling)
1 teaspoon lemon extract
¼ cup lemon juice
1 (12 oz) can evaporated milk (chilled)
Cooking Instructions: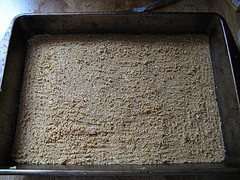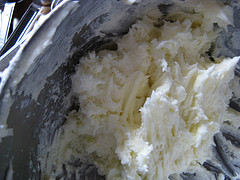 Step 1: Mix the crust ingredients and press them into a 13×9" pan.
Step 2: In a bowl stir together cream cheese and sugar until it's fluffy.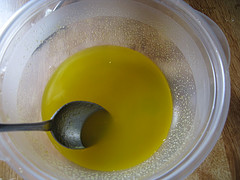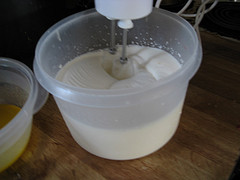 Step 3: In a separate bowl mix together jello and boiling water. Then add the lemon juice and lemon extract and mix well. Set it aside and let cool. Meanwhile, place a large mixing bowl and beaters in the freezer to chill.
Step 4: Once bowl and beaters are chilled, whip evaporated milk on high until it thickens and holds a peak. Turn the beater to low and slowly mix in cream cheese, followed by the lemon jello mixture.
Step 5: Pour filling over crust in the pan, and top with sliced fresh strawberries (If desired). Chill in the refrigerator until filling sets. Cut into squares.
Tags: cooking, recipes, food and drink, recipe, baking
If you enjoyed this article Subscribe to my RSS Feed.