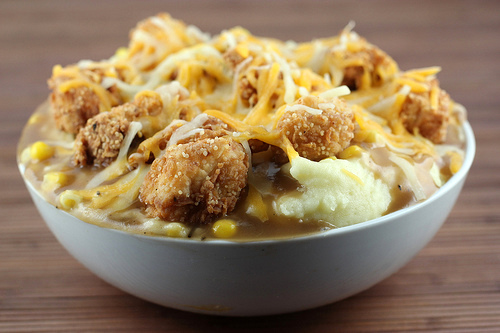 When KFC first introduced the mashed potato bowl a few years ago I was pretty excited to try it. Mashed potatoes, gravy, corn, and breaded chicken topped with cheese, how could this not be good? It was no surprise to me when I tried it and it actually was good. The problem with most fast food places is that they are often hit or miss. So after having many disappointing mashed potato bowls I decided it was time to make my own. The result was fantastic. The chicken pieces were well seasoned and I used Campbell's beef gravy for a nice rich flavor. This recipe is a little work but I can assure you it's worth it. This makes for a great dinner and if you enjoy the mashed potato bowls from KFC, you will enjoy this recipe.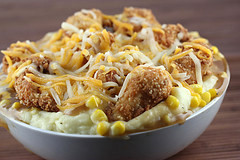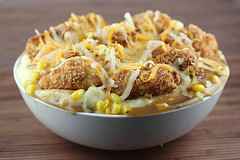 Mashed Potato Bowl
Prep time: 30 minutes Cook time: 30 minutes
Ingredients:
1 1/2 lbs boneless skinless chicken breasts (cut into 1" chunks)
2 cups all purpose flour
2 ½ teaspoons salt
¾ teaspoon pepper
¾ teaspoon accent salt
1/8 teaspoon paprika
1/8 teaspoon garlic powder
1/8 teaspoon baking powder
1 egg (beaten)
1 cup milk
oil (for deep frying)
Mashed Potatoes-
8 large potatoes (peeled and quartered)
1 teaspoon salt
ground black pepper (to taste)
½ cup butter
¾ cup milk
2 cans Campbell's Beef Gravy (heated)
2 cups corn (heated)
1 bag shredded Colby Jack Cheese
Cooking Instructions: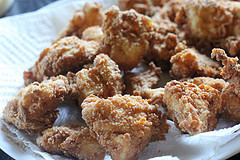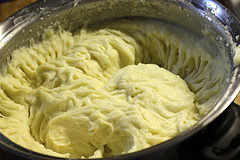 Step 1: In a shallow bowl beat together 1 egg and 1 cup of milk. Combine all of the coating ingredients in another shallow bowl, pie plate, or shaker bag and mix well. Dip the chicken pieces into the egg mixture then into the coat and double dip. Deep fry in batches at 375 degrees until chicken pieces are golden brown and fully cooked. Drain on paper towels.
Step 2: While chicken is frying. To make mashed potatoes: Add potatoes and salt to a large pot and fill with enough water to cover the potatoes. Boil potatoes until tender. Drain water and add pepper, butter, and milk. Mash or beat until smooth.
Step 3: To assemble potato bowls- Add a layer of mashed potato onto the bottom of a boil. Top with corn, chicken pieces, gravy and cheese. Divide the ingredients evenly within 4 bowls.
Yield: (4 Servings)
If you enjoyed this article Subscribe to my RSS Feed.