Outback Steakhouse Alice Springs Chicken Recipe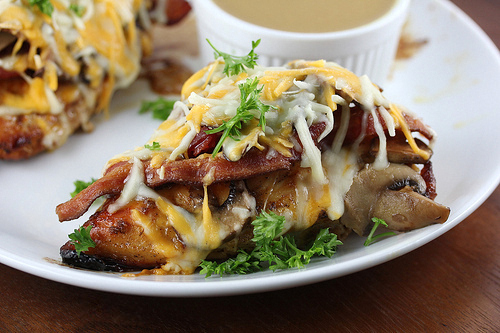 I have never been to Outback Steakhouse but this is apparently a copycat recipe for their Alice Springs Chicken. This dish consists of marinated baked chicken breasts that are topped with bacon, mushrooms, and cheese. If you would prefer, you can also grill the chicken instead of using stove top and the oven. You could also just bake the chicken instead of using both the frying man and the oven. When using only the oven though, the cooking time will be longer. Make sure to cook the chicken until it has reached an internal temperature of 165 degrees F. This chicken is topped with two different types of cheeses—cheddar and Monterey jack. This recipe uses homemade honey mustard sauce which consists of Dijon mustard, honey, vegetable oil and lemon juice. This Alice Springs Chicken makes a delicious dinner for any night of the week. Enjoy.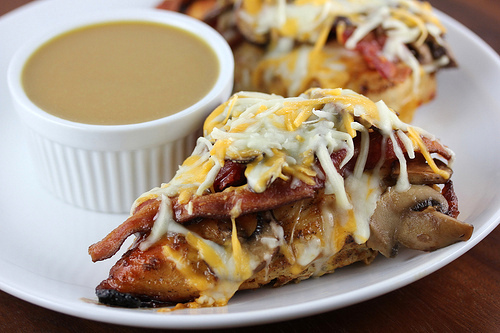 Ingredients:
½ cup Dijon mustard
½ cup honey
1 ½ teaspoons vegetable oil
½ teaspoon lemon juice
1 tablespoon vegetable oil
2 cups fresh mushrooms (sliced)
2 tablespoons butter
salt
pepper
paprika
8 slices bacon (cooked until crispy)
1 cup shredded Monterey Jack cheese
1 cup shredded cheddar cheese
2 teaspoons fresh parsley (finely chopped)
Cooking Instructions: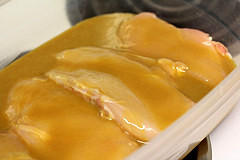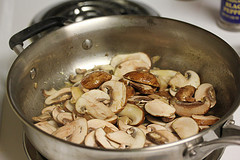 Step 1: In  small bowl whisk together Dijon mustard, honey, 1 ½ teaspoons of oil and lemon juice. Add the chicken breasts into a large container. Pour about 2/3 of the honey mustard sauce over the chicken. Cover and refrigerate for about 2 hours. Cover the remaining honey mustard sauce, refrigerate and reserve until later.
Step 2: In a small frying pan melt the butter. Add mushrooms and sauté until the mushrooms have reached your desired tenderness. Remove from heat. Lightly grease a 9×13" baking dish. Heat 1 tablespoon of vegetable oil in a large skillet over medium-high heat. Remove chicken breasts from the marinade (discard the marinade) and season with salt, pepper and paprika. Add the chicken breasts to the pan and sear on both sides for 3-4 minutes or until golden brown. Place the chicken breasts into the baking dish.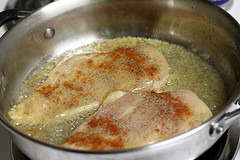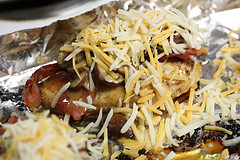 Step 3: Place into the oven and bake at 350 degrees for 25-30 minutes or until the chicken is fully cooked (the internal temperature has reached 165 degrees). During the last few minutes of cooking top each chicken breast with mushrooms, 2 slices of bacon, ¼ cup Monterey jack, ¼ cup of cheddar. Bake until the cheese has melted. Sprinkle each chicken breast with ½ teaspoon of parsley before serving. Serve with the refrigerated honey-mustard sauce.
(Makes 4 Servings)