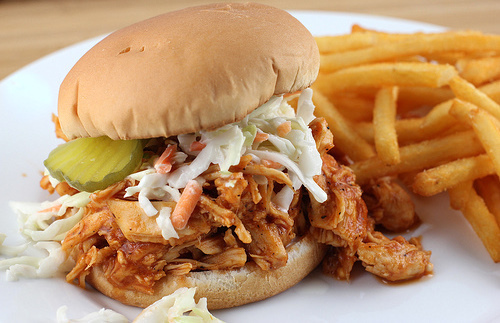 Pulled chicken sandwiches are a great alternative to pulled pork. Instead of using the slow cooker, this recipe just calls for boiling the chicken breasts. That means this recipe can be done on short notice. If you would prefer to use a slow cooker you can do that as well. What is really great about this recipe is the BBQ sauce. The homemade bbq sauce uses ingredients such as cider vinegar, and ground mustard to give it an amazing flavor. I always top my pulled chicken sandwiches will dill pickle rounds and coleslaw. This is a great recipe now that football season is here. Enjoy.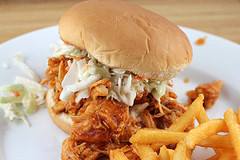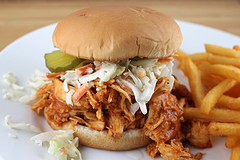 Ingredients:
4 boneless skinless chicken breasts
8 hamburger buns
coleslaw (optional)
dill pickle rounds (optional)
BBQ sauce-
2 cups ketchup
1 cup water
½ cup cider vinegar
5 tablespoons light brown sugar
5 tablespoons sugar
½ tablespoon ground black pepper
½ tablespoon onion powder
½ tablespoon ground mustard
1 tablespoon lemon juice
1 tablespoon Worcestershire sauce
Cooking Instructions: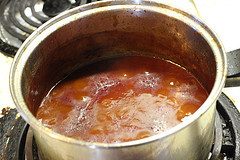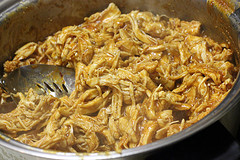 Step 1: In a medium sauce pan combine ketchup, water, cider vinegar, brown sugar, sugar, black pepper, onion powder, mustard, lemon juice, and Worcestershire sauce. Bring to boil, reduce heat and simmer. Cook uncovered , stirring frequently for 1 hour and 15 minutes.
Step 2: While BBQ sauce is simmering place chicken breasts into a large pot. Fill with enough water to cover the chicken breasts. Bring to a boil and boil until chicken breasts are fully cooked. Remove from the pan and allow to cool for 10 minutes. Using 2 forks shred the chicken breasts.
Step 3: Mix BBQ sauce with the shredded chicken and place onto hamburger buns. Top with coleslaw and dill pickle rounds.
(Makes 6 Servings)
If you enjoyed this article Subscribe to my RSS Feed.