Ranch Pasta Salad Recipe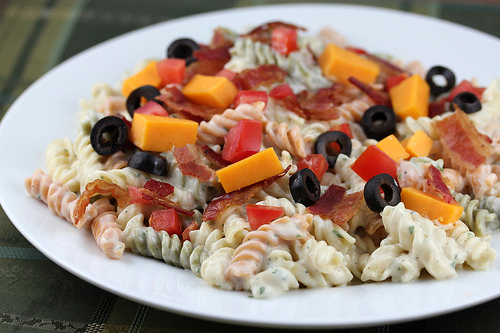 This ranch pasta salad is a delicious option for a side dish to go with almost any type of meat. I like to serve this salad with grilled chicken, pork, or steak. It is also great for parties and to bring to cookouts. What makes this salad so amazing is the ranch dressing mixture. The ranch dressing mixture combines mayonnaise, dry ranch dressing mix, garlic powder, and milk. Some of the ingredients included in this salad are bacon, tomatoes, black olives and cheddar cheese. You can add additional ingredients if you choose, a good option would be sliced cooked chicken. This recipe is very easy to prepare and can be prepared in advance. Enjoy.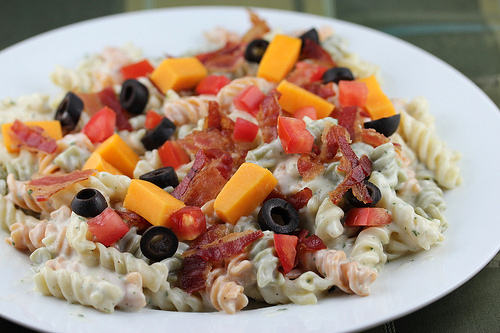 Ingredients:
1 (12 ounce) packages uncooked tri-colored rotini pasta
10 slices bacon
1 cup mayonnaise
1 ( 1 ounce) packet dry ranch dressing mix
¼ teaspoon garlic powder
½ cup milk
1 large tomato (chopped)
1 (3 ounce) can sliced black olives (drained)
1 cup sharp cheddar cheese (shredded)
salt and pepper (to taste)
Cooking Instructions: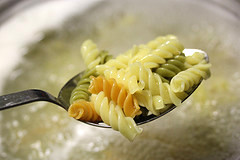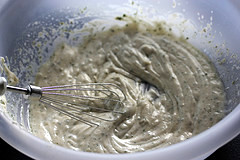 Step 1: Bring a large pot of lightly salted water to a boil. Add rotini pasta and cook for 10 to 12 minutes or until al dente, drain and rinse with cold water. Set aside.
Step 2: Place bacon in a large skillet over medium-high heat and cook until evenly brown. Drain on paper towels. Once has bacon has drained and has cooled, crumble it into bits.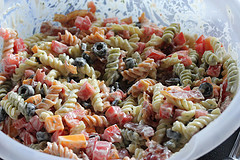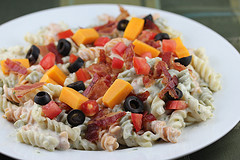 Step 3: In a large bowl whisk together mayonnaise, ranch dressing mix, and garlic powder. Whisk in milk until smooth. Add drained rotini pasta, crumbled bacon, tomato, black olives, and cheese. Toss to coat with the dressing. Season with salt and pepper to taste. Cover and chill for at least 1 hour in the refrigerator. You can toss the salad with additional milk if it seems a little dry.
(Makes 8 Servings)