One dish that is very simple and easy to prepare are shrimp fajitas. There are many different ways to make fajitas but using shrimp adds its own unique flavor. For this recipe you can use either corn or flour tortillas. This recipe can actually be ready to serve within a half hour. It's great for those nights when you don't have a lot of time. Some condiments that could be served with this are sour cream, Pico de Gallo, and Guacamole. The shrimp are first marinated in a seasoning mixture and then cooked in the pan. This recipe is also great for summer. Enjoy.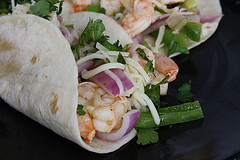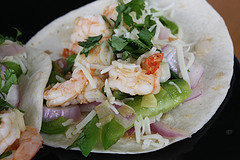 Ingredients:
1 ¼ lbs medium raw shrimp (peeled and deveined)
½ teaspoon salt
½ teaspoon ground cumin
½ teaspoon Chile powder
½ teaspoon oregano
¼ teaspoon garlic powder
1 lime (juice of)
8 flour tortillas (warmed)
2 tablespoons vegetable oil
6 green onions (sliced)
2 green bell peppers (sliced)
Shredded Monterey Jack Cheese
1 medium red onion (diced)
Fresh cilantro
Cooking Instructions: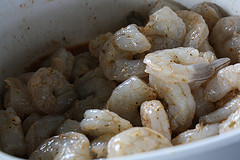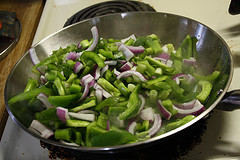 Step 1: In a large bowl or zip lock bag combine shrimp, salt, cumin, chile powder, oregano, garlic powder, and lime juice. Mix well and toss shrimp to coat. Place into the refrigerator and let marinate for 10 minutes.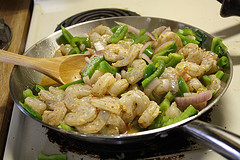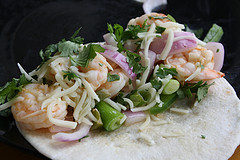 Step 2: In a large skillet heat vegetable oil. Add green onions and peppers. Cook while stirring for 2 minutes or until vegetables are slightly softened. Add shrimp with the marinade and cook while stirring for 3 minutes or until the shrimp are pink.
Step 3: Spoon shrimp and vegetables into warmed tortillas. Top with cheese, cilantro, and red onions.
(Makes 4 Servings)
If you enjoyed this article Subscribe to my RSS Feed.