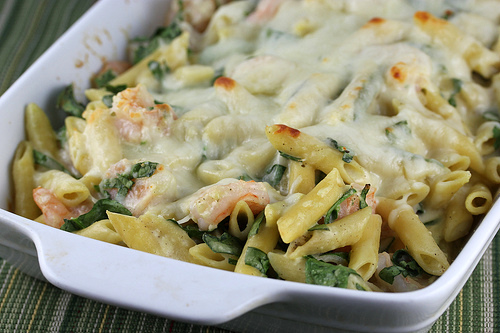 Shrimp penne casserole is a very simple and delicious seafood dish. This recipe consists of ingredients such as shrimp, mozzarella cheese, parmesan cheese, garlic and spinach; with a combination like this you cannot go wrong. If you are looking for a quick dinner this is an excellent choice because this casserole only takes about 40 minutes to prepare including the cooking time. If you don't want to use shrimp, a good alternative would be to use sliced cooked chicken breasts. A good alternative to mozzarella cheese would be Italian cheese blend. This goes great served with garlic bread. Enjoy.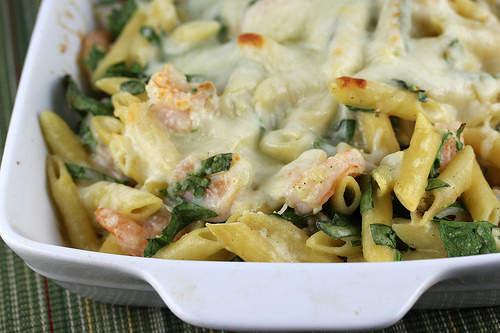 Ingredients:
3 cups uncooked penne pasta
2 eggs
½ cup half-and-half cream
4 tablespoons butter (melted)
1 cup grated parmesan cheese
2 cups shredded mozzarella cheese
2 garlic cloves (minced)
½ teaspoon salt
¼ teaspoon ground black pepper
1lb uncooked medium shrimp, peeled and deveined with tails removed
1 ½ cups fresh spinach (chopped)
Cooking Instructions: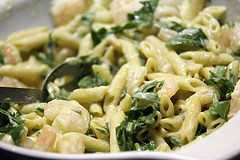 Step 1: Pre-heat the oven to 350 degrees. Cook penne pasta according to package directions. In a small bowl combine eggs, half-and-half, and butter; set aside. Drain the pasta and place it into a large bowl. Add parmesan cheese, 1 cup mozzarella cheese, garlic, salt, pepper, and reserved egg mixture; toss to coat. Stir in shrimp and spinach.
Step 2: Lightly grease a 9×13 inch baking dish. Pour the shrimp and penne mixture into the baking dish and top with left over mozzarella cheese.
Step 3: Place into the oven and bake uncovered at 350 degrees for 20-25 minutes or until the shrimp turn pink and the cheese has melted.
(Makes 6 Servings)
If you enjoyed this article Subscribe to my RSS Feed.