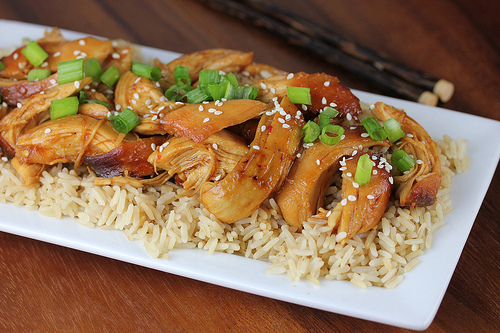 This slow cooker Asian chicken is an easy way to prepare a delicious Chinese meal in the crock pot. There is no wok or fry pan required for this recipe as everything is done in the slow cooker. The process is very simple—the chicken is added to the slow cooker with all of the sauce ingredients and cooked on low for about 3-4 hours. If would prefer that the dish be cooked faster, just turn the slow cooker on high and it will be done in about 2 hours. The sauce recipe is delicious; it is a sesame-honey style sauce that includes ingredients such as honey, soy sauce, ketchup, and garlic. If you don't want to use boneless chicken breasts, boneless chicken thighs will work as well. For a side-dish you can prepare rice if you want. Enjoy. Adapted from The Comfort of Cooking.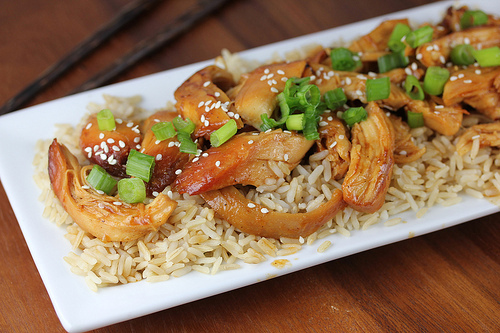 Ingredients:
6 boneless skinless chicken breasts
salt and pepper (to taste)
½ cup onion (diced)
2 garlic cloves (minced)
1 cup honey
¼ cup ketchup
½ cup low-sodium soy sauce
2 tablespoons vegetable oil or olive oil
¼ teaspoon red pepper flakes
4 teaspoons cornstarch
1/3 cup water
sesame seeds (for garnish)
3 green onions (sliced)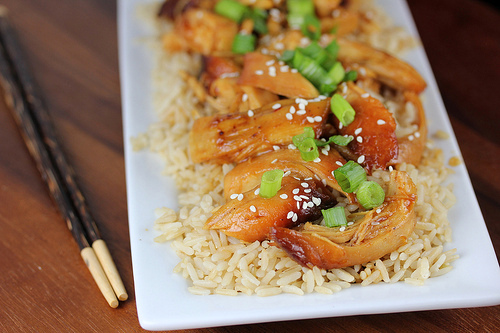 Cooking Instructions: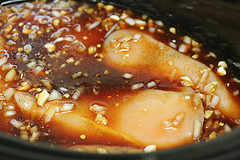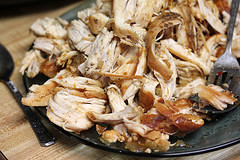 Step 1: Place the chicken breasts into the slow cooker and lightly season both sides with salt and pepper. In a medium bowl, combine onion, garlic, honey, ketchup, soy sauce, oil, and red pepper flakes. Pour the sauce over the chicken in the slow cooker. Cover and cook on low for 3-4 hours, or on high for 2 hours until the chicken is fully cooked (the internal temperature has reached 165 degrees).
Step 2: Once the chicken has finished cooking, remove the chicken breasts and place them onto a cutting board, leaving the sauce in the slow cooker. Shred the chicken into bite-sized pieces using two forks. Set aside.
Step 3: In a small bowl, dissolve 4 teaspoons of cornstarch in 1/3 cup water, add to the crock pot. Stir to combine with the sauce. Cover and cook sauce on high for ten more minutes, or until the sauce has slightly thickened.
Step 4: Return the chicken to the slow cooker and toss with the sauce. Serve over cooked rice if desired. Top with sesame seeds and sliced green onions.
(Makes 4 Servings)
If you enjoyed this article Subscribe to my RSS Feed.