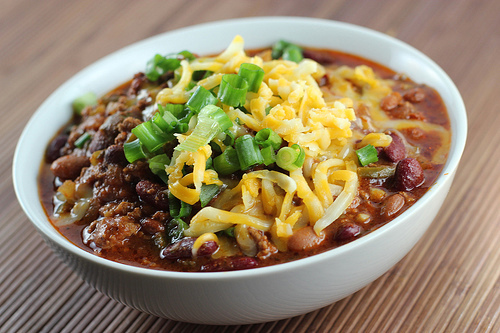 This is pretty much the easiest chili recipe you will find anywhere. This one is perfect for a busy day because the slow cooker does most of the work for you. Just brown the beef, chop a few vegetables, add all the ingredients into the slow cooker and you are finished. If you like your chili a little spicier you can add more hot sauce. I like my chili a little bit thicker so I drained the beans. If you like a soupier chili you can add the beans to the slow cooker with the juice. This recipe is simple and perfect for cold fall or winter nights. Enjoy.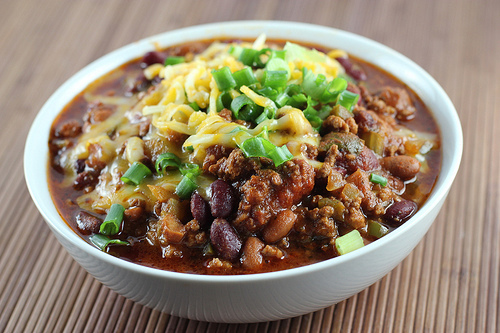 Ingredients:
1 pound ground beef
¾ cup onion (diced)
¾ cup celery (diced)
¾ cup green bell pepper (diced)
2 garlic cloves (minced)
2 (10.7 ounce) cans tomato puree
1 (15 ounce) can kidney beans (with liquid)
1 (15 ounce) can kidney beans (drained)
1 (15 ounce) can cannellini beans (with liquid)
½ tablespoon chili powder
½ teaspoon dried basil
¾ teaspoon oregano
¼ teaspoon ground black pepper
1/8 teaspoon hot pepper sauce (or more, to taste)
Cooking Instructions: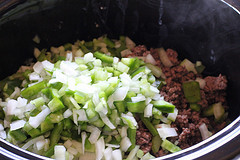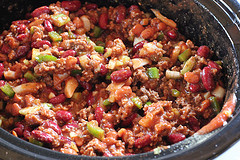 Step 1: In a large skillet over medium high heat, add ground beef and cook until evenly browned. Chop up with a metal spatula while browning. Drain any excess grease.
Step 2: Place beef into the slow cooker. Add onion, celery, green pepper, garlic, tomato puree, kidney beans, and cannellini beans. Season with chili powder, parsley, salt, basil, oregano, black pepper, and hot pepper sauce. Mix well.
Step 3: Place cover onto the slow cooker and cook on low for 8 hours.
(Makes 8 Servings)
If you enjoyed this article Subscribe to my RSS Feed.