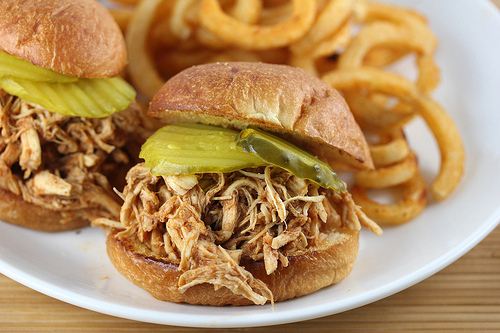 Pulled chicken in the slow cooker goes great on sandwiches or sliders. If you are looking for an easy slow cooker meal for football season, this recipe for pulled chicken is perfect for you. This recipe combines homemade BBQ sauce and boneless skinless chicken breasts in the slow cooker. What I did was serve the pulled chicken on toasted slider buns with bread and butter dill pickle chips. This recipe is so easy to prepare and it only takes about 4-5 hours to cook in the slow cooker. Enjoy.


Ingredients:
1 cup ketchup
¼ cup water
2 tablespoons dark brown sugar
2 tablespoons cider vinegar
2 teaspoons chili powder
1 teaspoon garlic powder
1 teaspoon onion powder
1 teaspoon dry mustard
1 teaspoon smoked paprika
1 teaspoon ground cumin
¼ teaspoon ground allspice
4 boneless skinless chicken breasts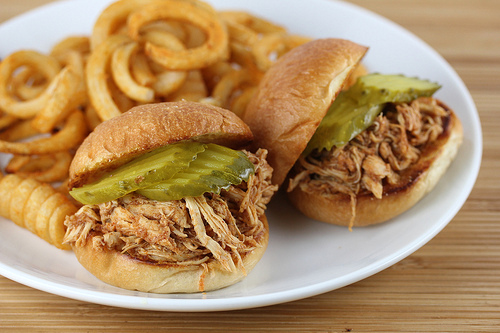 Cooking Instructions: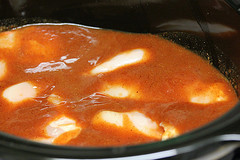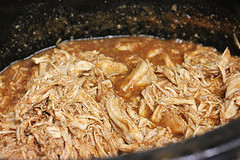 Step 1: In a medium bowl combine ketchup, water, dark brown sugar, cider vinegar, chili powder, garlic powder, onion powder, dry mustard, smoked paprika, cumin, and allspice. Stir until well combined and smooth.
Step 2: Add chicken breasts to the bottom of the slow cooker. Pour the prepared BBQ sauce over the chicken breasts. Cover and cook on low for 4 ½-5 hours or until the chicken is fully cooked (the internal temperature has reached 165 degrees).
Step 3: Remove the chicken from the slow cooker and shred each chicken breast using two forks. Return the chicken to the slow cooker and mix with the sauce.
(Makes 4 Servings)
If you enjoyed this article Subscribe to my RSS Feed.