Taco Tater Tot Bake Recipe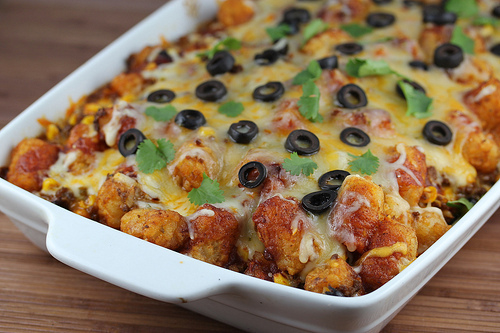 This taco tater tot bake combines tater tots into a Mexican style casserole that makes a delicious meal for any night of the week. During the winter months casserole dishes are among my favorite things to make for dinner. This specific casserole consists of ingredients such as taco meat, green chilies, corn, black beans, and Mexican cheese. The casserole also gets a lot of its flavor from enchilada sauce. If you would prefer you can add additional toppings to this recipe, some good options might be salsa and sour cream. This taco tater tot bake is extremely easy to prepare if you are short on time. Enjoy. Adapted from Cullys Kitchen.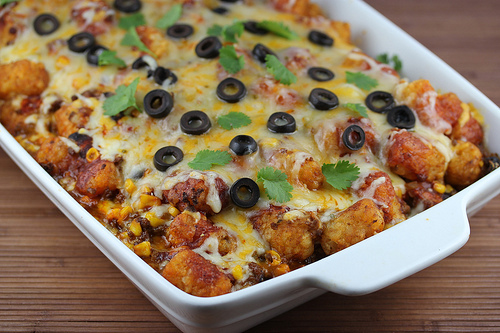 Ingredients:
1lb ground beef
1 small onion (diced)
1 garlic clove (minced)
1 small can black olives (sliced)
1 (1 ounce) package taco seasoning mix
1 (16 ounce) bag frozen corn
1 (4 ounce) can green chilies (diced and drained)
1 (12 ounce) can black beans (drained and rinsed)
1 (16 ounce) bag shredded Mexican cheese blend
1 (16 ounce) package frozen tater tots
1 (10.5 ounce fluid ounce) can enchilada sauce
Cooking Instructions: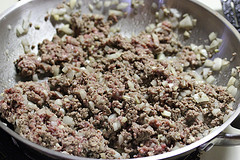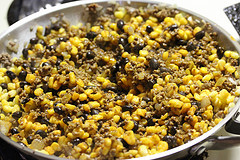 Step 1: Preheat the oven to 375 degrees. Spray a 9×13 inch baking dish with cooking spray. Heat a skillet to medium high heat. Add ground beef, garlic, and onion and cook while breaking the meat apart with a spoon or spatula until the ground beef is completely browned. Drain off any excess fat. Add taco seasoning mix, green chilies, frozen corn, and black beans to the ground beef. Cook until heated through.
Step 2: In a large bowl combine ground beef mixture, ¾ of the Mexican cheese blend, and all of the tater tots. Stir well to combine.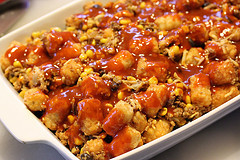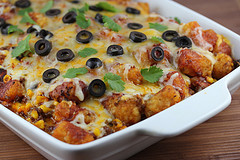 Step 3: Pour about 1/3 of the enchilada sauce into the bottom of the prepared baking dish. Add the tater tot mixture to the baking dish and lightly pat the mixture down into a solid, even layer. Pour the remaining enchilada sauce over the tater tots.
Step 4: Place into the oven and bake at 375 degrees for 40 minutes. During the last few minutes of baking, top the casserole with the remaining Mexican cheese blend and the sliced black olives. Return to the oven and bake until the cheese is melted and bubbly.
(Makes 6 Servings)