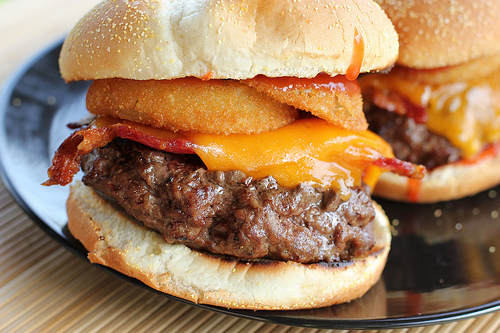 These Western Burgers are just like the Western bacon cheese burgers at Carl's Jr. If you had one before you know these burgers are loaded with good stuff. The burgers are topped with cheddar cheese, bacon, onion rings, and BBQ sauce. For the BBQ sauce you can use store bought or even make your own. The burgers should be well seasoned with salt and black pepper for the best flavor. If you don't have an outdoor grill, you can cook them in the fry pan. These burgers are perfect for summer cookouts. Enjoy.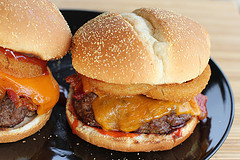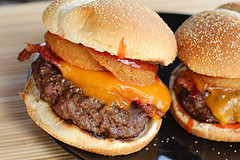 Western Burgers
Prep time: 10 minutes Cook time: 30 minutes
Ingredients:
2lbs ground hamburger
8 frozen onion rings
8 slices bacon
8 tablespoons BBQ sauce
4 slices cheddar cheese
4 hamburger buns

Cooking Instructions: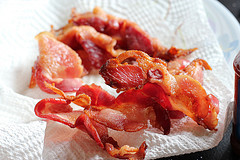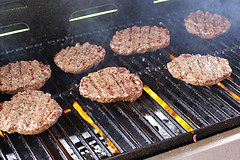 Step 1: Deep fry or bake onion rings according to package directions (if deep drying drain on paper towels). Set aside. Add bacon to the fry-pan and cook until crispy, drain on paper towels (if you want some tips on cooking perfectly crispy bacon see my article on How to Cook Crispy Bacon). Set aside.
Step 2: Shape ground burger into 4 patties and season on both sides with salt and pepper. Lightly grease grill grates. Heat an outdoor grill to medium-high heat. Cook hamburger patties until they have reached an internal temperature of 160 degrees. Within the last few minutes of cooking top each patty with a slice of cheddar cheese. Once cheese has melted, remove from the grill.
Step 3: Place the hamburger buns halves onto the grill and cook on the underside until lightly browned. Remove from the grill. Spread BBQ sauce onto both halves on each bun. Top with a hamburger patty, 2 slices of bacon, and 2 onion rings.
Yield: (4 Servings)
If you enjoyed this article Subscribe to my RSS Feed.