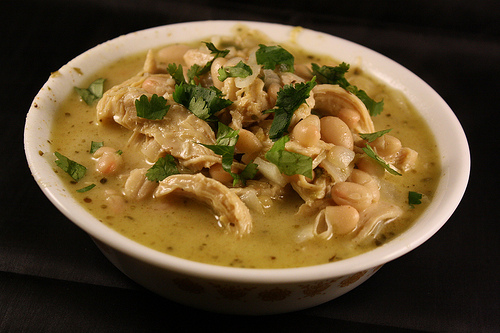 Now I can add a new favorite among chili recipes to my collection, white chicken chili. This was the first time I have ever tried white chicken chili and I didn't really know what to expect. When the chili had finished cooking and I tasted it, I thought it was great. This is a lot different from your normal chili, as it uses no actual chili powder. Adding the shredded Monterey jack cheese makes a huge difference in the flavor and is necessary so do not leave it out. The original recipe called for diced jalapeño peppers, I wanted to cut down the heat a little bit so I replaced them with canned green chilies. If you want to cut down the heat even more add less cayenne pepper. If you want left over chicken you want to use up, this is a great recipe for that. Enjoy.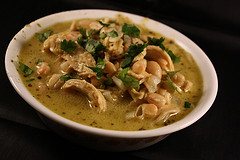 Ingredients:
1 tablespoons vegetable oil
1 onion (chopped)
3 garlic cloves (crushed)
2 (4 ounce) cans mild chopped green chile peppers
2 teaspoons ground cumin
1 teaspoon dried oregano
1 teaspoon ground cayenne pepper
2 (14.5 ounce) cans chicken broth
3 cups cooked chicken breast (chopped)
3 (15 ounce) cans white beans
1 cup shredded Monterey jack cheese (or more)
Cooking Instructions: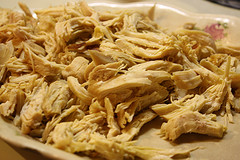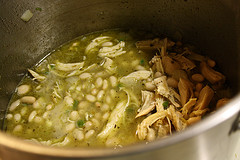 Step 1: In a large sauce pan over medium-low heat add oil. Add onions and stir fry until tender. Mix in garlic, green chilies, cumin, oregano and cayenne pepper. Continue to stir fry for about 3 minutes.
Step 2: Mix in chicken broth, chicken and white beans. Simmer for 15 minutes, stirring occasionally.
Step 3: Remove from heat and slowly stir in the shredded cheese until melted. Serve warm.
(Makes 4 Servings)
If you enjoyed this article Subscribe to my RSS Feed.